ETS Announces New Book Series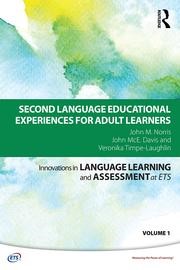 ETS (Educational Testing Service) and Routledge are happy to announce the launch of a new book series entitled Innovations in Language Learning and Assessment at ETS. Edited by John Norris, James Purpura, Steven Ross, and Xiaoming Xi, the goal of this series is to publish books that (A) document the development and validation of specific language assessments, and (B) explore broader innovations related to language assessment theory and practice, language education, and language learning.
Volumes in the series will provide reports of cutting-edge research and development, as well as syntheses of theory, research, and practice, related to language learning and assessment, all in a format that is easily accessible to language teachers and applied linguists as well as testing professionals and measurement specialists. The first volume in the series is a book entitled Second Language Educational Experiences for Adult Learners by John Norris, John Davis, and Veronika Timpe-Laughlin. It is set to appear in early 2017. Click here to learn more information about the series, including the first volume.