TIRF Colloquium at the 2018 AAAL Conference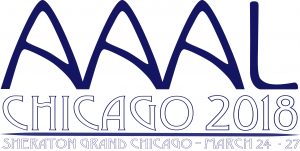 TIRF colleagues will be panelists in a colloquium at the 2018 AAAL Conference in Chicago. The focus of the colloquium is on "Language Education Policy: Bottom-Up Voices and the Power of Agency."
Language education policy involves both top-down and bottom-up processes with official policies interpreted and transformed by teachers and administrators, as well as by less visible language policy makers. Laws or official policy documents are interpreted and transformed in an array of smaller institutions (especially schools and universities) by teachers and administrators who may adapt, ignore, or reject them, as well as by less visible language policy makers—learners, families, and community members—who are both affected by and affect changes in them.
It is these "bottom-up" voices that will be heard in this panel, which presents empirical research done in Brazil, Jamaica, Canada, and the United States, focused on language education policy as it is implemented (or not) by diverse stakeholders in a range of schools and university contexts.
Five of the presenters are TIRF Doctoral Dissertation Grantees.
Angelica Galante's talk is entitled, "Will I Speak British or American English? Investigating Policy and Plurilingual Instruction in an EFL University Program in Brazil."
Nicholas Close Subtirelu will discuss "Linguistic Diversity and International Inclusion: Challenges in Integrating International Teaching Assistants at a University in the United States."
Yu-Chi Wang's title is "Rethinking Culturally and Linguistically Diverse Students' Perceptions of Family Language Policies and Identities in an American Afterschool Program."
Ron Darvin will share his research on "Digital Literacy, Language Learning, and Educational Policy in British Columbia."

Crissa Stephens will report on "Lessons Learned from the Midwest: Language Policy Discourse in Local News."
In addition, Shondel Nero, the recipient of the 2016 TIRF James E. Alatis Prize for Research on Language Planning and Policy in Educational Contexts, will be a panelist. Her title is "Challenges of Language Education Policy Development and Implementation in Creole-speaking Contexts: The Case of Jamaica."
TIRF Trustee Jodi Crandall will serve as the colloquium discussant.
The colloquium is scheduled for Saturday, March 24th from 8:00am to 11:00am in the Sheraton Hotel. We hope to see you there!