Donate

"TIRF is focused, it's within your own profession, it's global, it's already making a difference,
and your contribution, however great or small, will make significant changes worldwide."
– H. Douglas Brown, Director, American Language Institute, San Francisco State University
TIRF is a fully recognized tax-exempt organization under IRS tax code 501(c)(3).
Online Donation
TIRF's online donations are accepted via PayPal. If you wish to transmit your gift online, please click the gold "Donate" button just below. You do not need to have a PayPal account to do so.
Donation by Mail
To donate to TIRF by mail, please print and fill out our donor TIRF contribution form. Then send the form with your contribution to the address listed below. The form can be downloaded at one of the following two links:
Send the completed form with your donation to:
The International Research Foundation for English Language Education
177 Webster Street, # 220
Monterey, CA 93940
USA
Donors
For a complete list of TIRF donors, please click here.
Russell N. Campbell Donors
To view a list of donors who have contributed to the Russell N. Campbell fund, please click here.
In-kind Donations
For a list of TIRF's in-kind donations, please click here.
Why You Should Give to TIRF
In this section, we share notes from several of our past DDG recipients. Their notes communicate how their awards were used to support their research endeavors, and these individuals also thank donors for their contributions. Click here to read the DDG recipients' message and consider donating to TIRF.
Why I Give to TIRF
Click each person's picture to read more about TIRF.


TIRF Founding Donor – Betty Azar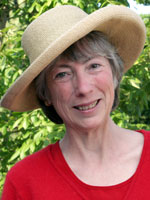 Between 2005 and 2008, TIRF-sponsored research was funded by a substantial grant from Betty Azar, author of the Azar Grammar Series (Pearson Longman). Her generous donation funded five Priority Research Grants and six Doctoral Dissertation Grants to assess the effectiveness of principled approaches to teaching grammar to adult English language learners around the world.
Betty Azar began teaching ESL in 1965 at Iowa State University. Her classroom needs over the years led her to writing ESL/EFL materials that eventually became a series of grammar-based textbooks. The first book in the Azar series, Understanding and Using English Grammar, was published in 1981. She then wrotetwo other texts, Basic English Grammar and Fundamentals of English Grammar, creating the Azar Grammar Series, a staple in English language teaching worldwide. Betty is a strong advocate of a grammar-based developmental skills approach to English language teaching. Her texts use grammar as a base for developing all language skill areas. The Azar Grammar Series (now the Azar-Hagen Grammar Series), is now in its 4th edition and has been used by millions of English language learners over the past 30 years. Betty is now retired and lives in the state of Washington in the US. For more information about Betty Azar and grammar-based teaching, visit the Author's Corner at AzarGrammar.com.
The Foundation is grateful to Betty for her long-term support of research related to effective teaching and learning of English.