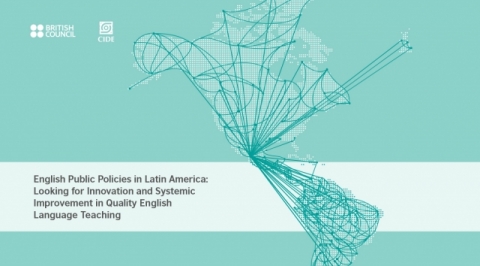 TIRF Trustee Michael Carrier recently notified the Foundation of a free British Council publication that will certainly be of interest to many TIRF Today readers. English Public Policies in Latin America: Looking for Innovation and Systemic Improvement in Quality English Language Teaching, edited by Jimena Hernández-Fernández and Javier Rojas, is based on a two-day event that "explored educational policies and interventions around foreign language teaching and learning in the Latin America region," according to the British Council's website.
The British Council's website also notes that "The event was attended by representatives of the education and ELT sectors in the United Kingdom…. This publication comprises the output of each delegate's participation in the event. Each contribution enriched the discussion and allowed attendees to reflect on topics ranging from the importance of English for economic development to the key success factors in language teaching in public education systems. All the while showcasing trends and innovations with the potential to improve the quality of English language teaching in Latin America."
Asked to comment on his participation at the event and in writing a chapter for the publication, Michael said, ''It was a great privilege to be able to speak at this official symposium as it addressed such vital questions for the future of young people in Latin America. The need for English in educational and professional settings continues to grow, but the capacities and resources of the state education systems are not always achieving the learning outcomes that everyone agrees are needed."
Michael continued, "My talk, and much of the conference, was about how we look at systemic and yet pragmatic changes to curricula, teacher training, and materials provision, so we can maximise the impact and benefits of a communicative approach, even in government schools with large classes and limited resources.
The conference and the publication of its proceedings served as a useful and salutary reminder that the majority of the world's 15 million ELT/ESL teachers work in low-resource contexts and I worry that we have not yet fully adjusted our approach to theory, training and resource provision to help & support these colleagues.''
To access the publication, please click here.