Editor's note: The following text has been adapted from the Center for Applied Linguistic's website.
The virtual migration of student learning and interaction from the classroom to the cloud is leaving many behind. Now that we are nearly one year into the pandemic, policymakers have access to the latest studies, research, and resources on the current status as well as best practices in digital education for our most vulnerable learners.
Throughout 2021, CAL will host live, open discussions with policymakers on the status of digital equity in U.S. education. Each episode of CAL's 30-minute webinar series, "Research to Policy: Critical Conversations in Language Education," examines education for multilingual learners and culturally diverse populations through the lens of digital equity. Topics include student assessment, teacher education, students with disabilities, early childhood education, and more.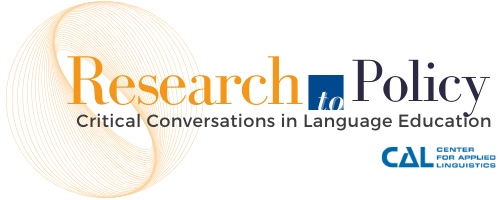 These virtual opportunities are offered by CAL free of charge. Individuals interested in participating should use the links below to learn more and register. (Please note that registration is limited to the first 500 participants for each session, but each will be live broadcasted on CAL's Facebook page.) Further "Conversations" are expected to be announced in Spring 2021.
Digital Equity in Education: Whence and Where to?
Feb 23, 2021 04:00 PM Eastern Time
Assessment of English Learners in the New Digital Landscape
Mar 30, 2021 04:00 PM Eastern Time
Teacher Education in the Post-COVID Era of Digital Learning
Apr 20, 2021 04:00 PM Eastern Time