Dear TIRF Friends,
Happy Chinese Lunar New Year!
For the first time in over the last three decades, I spent the Spring Festival in Macau. It was memorable. Traditionally, families gather during the Chinese New Year. In modern China, migrant workers travel home to have reunion dinners with their families on Chinese New Year's Eve. The New Year's Eve dinner is usually very large and traditionally includes dumplings, chicken, and pork. Fish is also included, but intentionally not eaten entirely, and the remaining fish is stored overnight. The reason for this occurrence stems from a pun: The Chinese phrase "every year there is fish leftover" is a homophone for phrases which mean "be blessed every year" or "have abundant profit every year."
People are blessed by either giving or receiving red envelopes – gifts presented at social and family gatherings during the Chinese New Year. The red color of the envelopes symbolizes good luck. It is traditional to put brand-new monetary notes inside red envelopes and to avoid opening the envelopes in front of the relatives out of courtesy. However, to get the money, the younger generation needs to express their good wishes for the year ahead to their elders as a form of respect and appreciation. Red envelopes are also given during the Chinese New Year in workplaces from persons of authority (supervisors or owners of businesses) out of their own funds to employees as a token of good fortune for the upcoming year.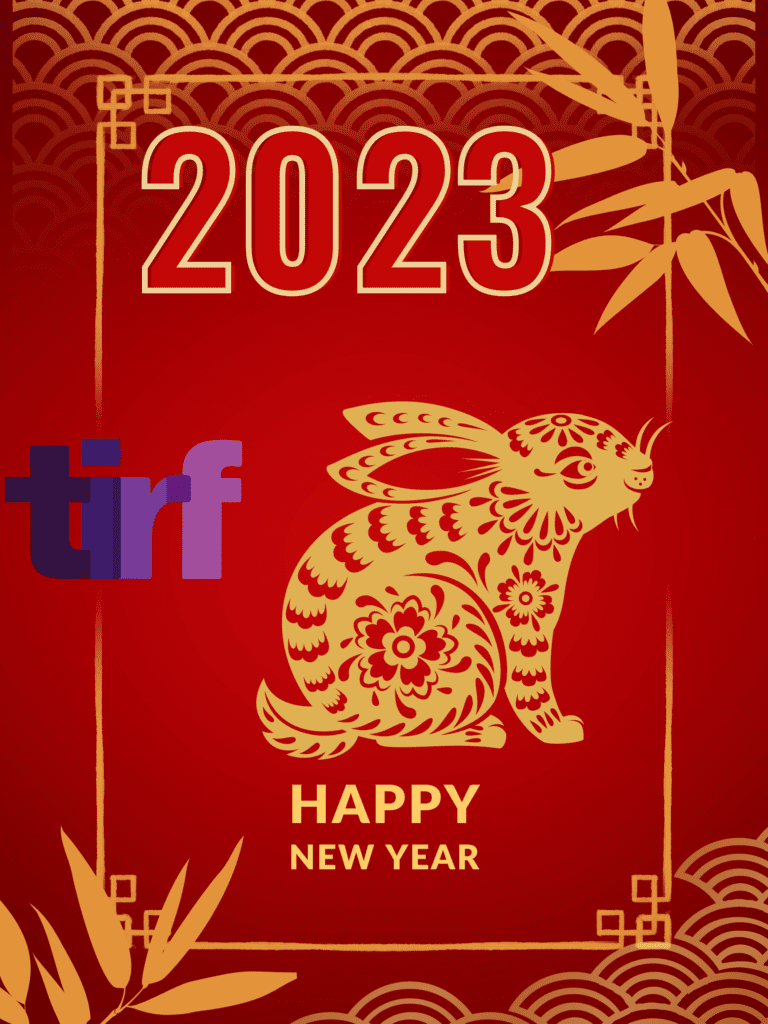 This Spring Festival has made me think of TIRF and its future: good luck and prosperity.
This is the Year of the Rabbit, and according to Chinese Astrology, the rabbit symbolizes good luck. The year of 2023 will bring qualities that may have been lacking in the previous years due to the pandemic. In the Year of the Rabbit, things will finally start to fall into place after a period of struggles and hardship due to the wide spread of COVID. TIRF will take a positive turn and our efforts will make us proud of ourselves. So long as we keep heading in the right direction, we will be surprised at the great things we accomplish.
The rabbit will also bring TIRF prosperity, in terms of its financial stability. The inspiring year-end fundraising campaign matched with Trustees' contributions, and the successful review of the Center for Language Education at SUSTech, among other initiatives, will advance our work and allow us to network and collaborate with other associations and business partners. To start the new year, we are looking forward to our collaboration with TESOL, as we present together during the Presidential Panel at the 2023 TESOL Convention in Portland, Oregon, USA (March 22nd). In addition, we will seek to expand our professional services to other parts of the world to create win-win situations for partnering organizations and TIRF. We will make further efforts to tell TIRF's powerful story through our promising DDG recipients and TIRF Talks.
Indeed, TIRF cannot and will not work alone. TIRF's mission needs to be shared and carried on by its friends, partners, and donors, together with its dedicated Trustees. May TIRF's dreams of 2023 come true: onwards and upwards!
Wishing you and your family a happy new year filled with hope, health, happiness, and fun!
Kind regards,

Jun Liu, Ph.D.
President, TIRF
Rector, City University of Macau