At this time of year, though I am beset with paper grading and student advising, I do take time to enjoy some holiday music. Without trying to push my cultural or religious traditions on readers of TIRF Today, I want to share some reflections about a favorite song: "The Little Drummer Boy."
This is not a traditional Christmas carol. Instead, it was written in 1941 by a composer named Katherine Kennicott Davis. It was originally published as "The Carol of the Drum" under the name of C. R. W. Robertson (the pen name of the actual composer). The melody seems to have been influenced either by a traditional Czech song or by a French melody. You can read a history of the song by clicking here.
There are many recordings of this song on YouTube, but one of my favorites is sung by Rita Coolidge. The rhythm and the drumming of this version reflect the singer's Cherokee heritage.
Another favorite is by Pentatonix (pictured right). Their rendition is sung acapella, with the musical metaphor of the young drummer's percussion being supplied by the singers and by their amazing "beatboxer," Kevin Olusola. I urge you to listen to his amazing introduction before the singers begin to hum the melody.
Finally, the rendition by Leslie Odom Jr. and the Mzansi Youth Choir features dance, movement, and pantomime, in addition to the lyric, to convey the story. The choir is from Soweto, South Africa and their delivery of the song is energetic and joyful.
For me, part of the appeal of the song's lyric is the idea that we give what we can give. This theme is treated beautifully in the short story, "The Gift of the Magi" by O. Henry (the pen name of William Sydney Porte). It tells of two sweethearts, Della and Jim, and their efforts to get special gifts for one another – gifts they could not afford to buy. She wished to buy a gold watch chain for him, and he wanted to buy her some beautiful combs with jewels for her hair. Without revealing the story's ending, let me say that when Della and Jim began to exchange their presents, they learned that their love for each other was the greatest possible gift.
So at this season of gift-giving, let me offer a simple present of my own to our readers. In the Chair's Report for the December 2019 issue of TIRF Today, I wrote about some "little gifts" from TIRF to the Foundation's constituencies, including the reference lists we offer. Today, I am pleased to tell you that the collection of TIRF's reference lists is still growing and being updated. Over the last few months, we posted new lists on the following topics: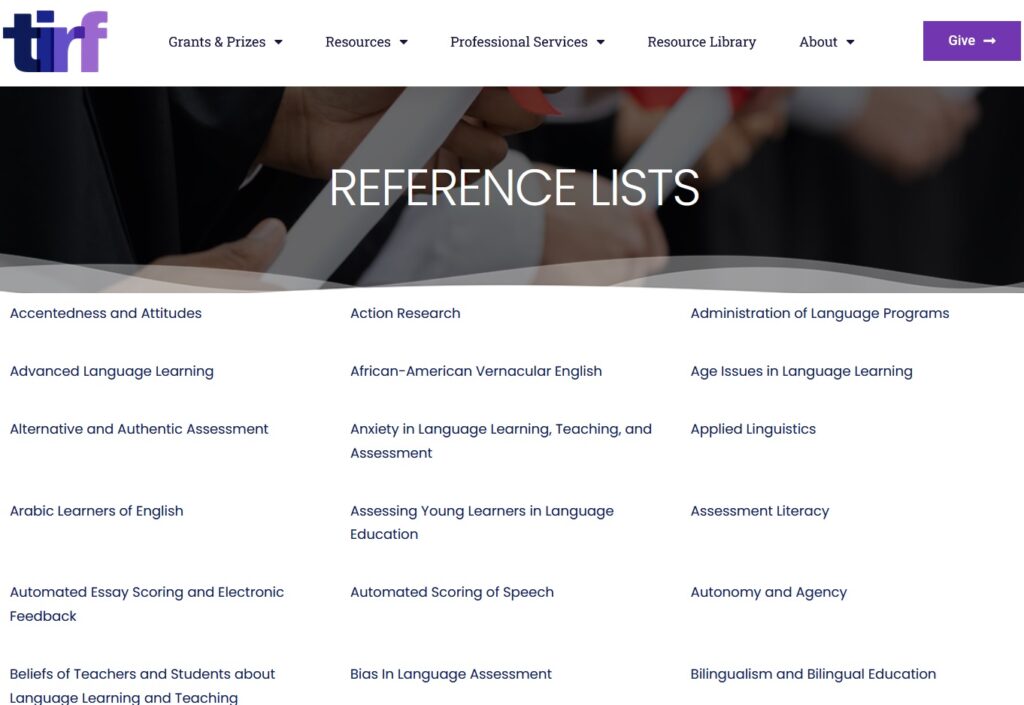 Creative Writing in Language Teaching and Learning
Creole and Pidgin Languages
Matched Guise Technique
Rural Contexts and Language Learning and Teaching
Turkish Learners of English
Writing Apprehension and Writing Anxiety
In addition, many of the existing reference lists have also been updated. The following resources have all been revised over the last several months. (Note that this is not a complete list, as so many have been updated!):
Age Issues in Language Learning
Autonomy and Agency
Close Tests
Comics and Graphic Novels         
Dictation
Diversity
Emotions in Language Learning, Teaching, and Use
Endangered and Indigenous Languages
Innovation
Intercultural Communicative Competence
International Teaching Assistants
Linguistic Landscape
Meta-Analysis in Language Research
Validity and Validation in Language Assessment and Research
Writing for Academic Purposes
All the reference lists are stored as Word documents, which you can download and use for free. I appreciate the contributions of Mansoor Al-Surmi, Kira Arias-La Rheir, Oliver Block, Grace Davis, Miranda Doremus-Reznor, Lydia Emory, Fatima Esseili, Enas Hammad, Drew Kunard, Rita Mora, James Joshua Nesmith, David Nunan, Kristen Tuttle, and Melanie van den Hoven in our efforts to curate the collection.
As 2021 draws to an end, I do have one final request to TIRF supporters reading this last Chair's Report of the year. If it is possible for you, please consider donating to the Foundation's year-end fundraiser. TIRF relies on gifts from the public to carry out its mission. In a world that seems to have changed so much throughout the pandemic, especially as research and its credibility appear to be at odds with misinformation in society, your gift to TIRF will help us continue to advance English language education worldwide through research. Please use the following link to donate to TIRF: https://donate-usa.keela.co/tirf-year-end-appeal-2021.
I wish you peace and good health in the new year.
Best wishes,