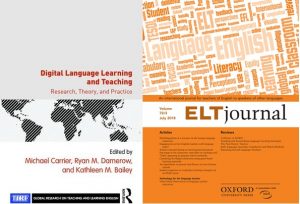 Editor's note: In this piece, TIRF Trustee Michael Carrier shares information about a recent review of TIRF's Digital Learning volume, co-published with Routledge.
The TIRF-Routledge edited volume, Digital Language Learning and Teaching, has recently been reviewed by the prestigious English Language Teaching Journal (ELTJ) published by Oxford University Press. The positive review will be published in the next issue of ELTJ. Unfortunately, we cannot share the full text with our readers because one must be a subscriber to access the journal's full copy. It will, however, be available in many university libraries around the world.
The author of the review is Sophia Mafridi, who is the coordinator of the IATEFL Learning Technology SIG (Special Interest Group). In her review, she writes that TIRF's Digital Learning volume "is a very well-structured, well-developed and thought-provoking read for anyone with an interest in digital language learning. … It fulfills its aims of bringing readers up to date with cutting-edge research, theory and practice, and it belongs on the recommended list of any module focusing on technology in language learning.''
The volume has been well-received by many of our supporters. We hope this review will encourage more sales of the book, leading to increased income for TIRF's important mission.