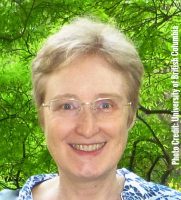 Former TIRF Trustee Dr. Patricia ("Patsy") Duff has been honored by the American Association for Applied Linguistics (AAAL) as the 2017 recipient of the AAAL Distinguished Scholarship and Service Award. Patsy was a member of the TIRF Board of Trustees for six years and served as the Chair of TIRF's Research Advisory Committee.
The AAAL Distinguished Scholarship and Service Award (DSSA) recognizes and honors a distinguished scholars for their scholarship and service to the profession in general and to the American Association for Applied Linguistics in particular.
Dr. Duff is a Professor and Distinguished University Scholar in the Department of Language and Literacy Education at the University of British Columbia. Her scholarship is internationally recognized. She has taught courses and given presentations in Australia, Chile, China, Egypt, England, Finland, France, Germany, Japan, Hungary, Korea, Mexico, Mongolia, New Zealand, Sweden, Thailand, and in many parts of Canada and the US.
Dr. Duff has many research interests. These include language socialization across bilingual and multilingual settings, qualitative research methods in applied linguistics (especially case study research) issues in the teaching and learning of English, Mandarin, and other international languages; the integration of second language learners in schools, universities, and society; multilingualism and work; and sociocultural, sociolinguistic, and sociopolitical aspects of language(s) in education.
In addition to serving as a TIRF Trustee, Dr. Duff has also been a member of the editorial boards of many journals, including the Modern Language Journal, the Canadian Modern Language Review, Applied Linguistics, the Annual Review of Applied Linguistics, Chinese Language and Discourse, Classroom Discourse, the TESL Canada Journal, and journals in Thailand and Korea. She edited the research issues section of the TESOL Quarterly for twelve years.
Please join us in congratulating Patsy Duff on this wonderful recognition from AAAL for her commitment to service and scholarship!