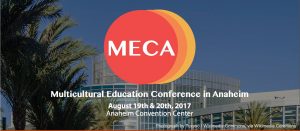 This month, MECA, the Multicultural Education Conference in Anaheim, was organized by Anaheim University and hosted by The Academia Foundation in Anaheim, California. The presentations addressed a wide range of topics that appeal to the teachers, administrators, and teacher trainees interested in multicultural education and intercultural communication. Topics discussed included bilingual education, intercultural communication, leadership, TESOL, and classroom strategies.
TIRF Trustees David Nunan and Kathi Bailey gave keynote presentations at the conference. Dr. Nunan talked about planning curricula for 21st-century skills. Dr. Bailey shared comments from award-winning teachers about instructors who had impressed them – whether for good or ill.
It is anticipated that MECA will become an annual event. Future gatherings will be announced in TIRF Today.