Part of TIRF's mission is to collect, organize, and disseminate information and research on the teaching and learning of language. One way the Foundation addresses this goal is by sharing reference lists on topics of interest to language teachers, researchers, test developers, teacher educators, materials developers, and program administrators.
There are now over 241 reference lists available on the website. Over the last several months, we have updated more than half of the reference lists. In addition, we have added reference lists on six new topics:
COVID and Education
Iranian Learners of English
Korean Learners of English
Social and Emotional Learning
Stimulated Recall
Systemic Functional Linguistics
TOEIC (Test of English for International Communication)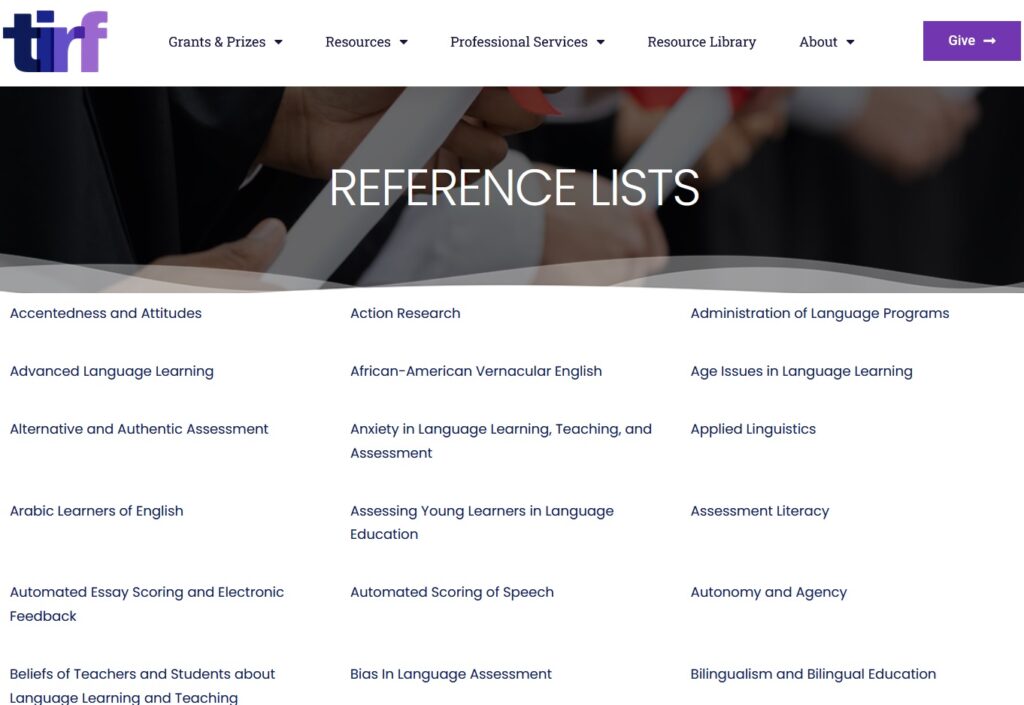 Many thanks to Heesun Chang, Priscilla Downey, Tariq Elyas, Christian Fallas Escobar, Scott Grapin, Enas Hammad, Muhammad Abdel Latif, Nora Lang, Mohammad A. A. Manasreh, Celia Reddick, Jonathan Schmidgall, and Pakize Uludag for sharing their resources to help build TIRF's reference list collection. We also want to thank Lydia Emory, who helped a great deal with this project.
Anyone who would like to contribute to the reference list collection is welcome to email TIRF President Dr. Kathi Bailey ([email protected]) and send a Word document with citations in APA format. Please be advised that we do not include conference presentations or unpublished masters theses or doctoral dissertations in TIRF's reference lists. We hope these resources will be helpful to you in carrying out your own professional responsibilities. Please share this information with your students, colleagues, and advisees.
Lastly, in case you missed it, organizations worldwide are invited to collaborate with TIRF via the Foundation's Reference List Sponsorship initiative. Click here to learn more.