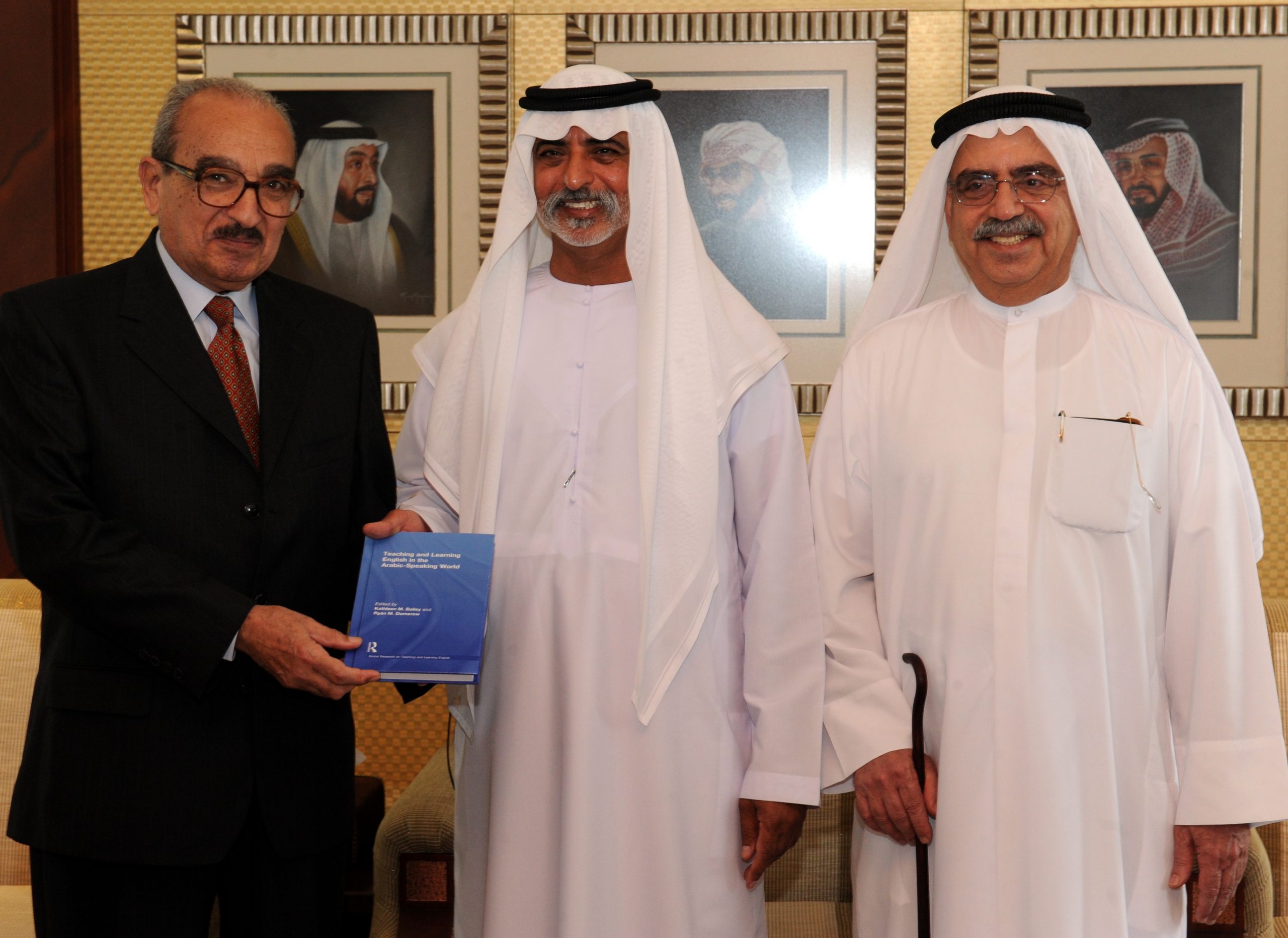 Editor's note: In this piece, Dr. Yehia El-Ezabi details his recent trip to the UAE. Please note that TIRF does not incur travel expenses for such trips.
On Friday, April 18, 2014, in Abu Dhabi, United Arab Emirates (UAE), TIRF Trustee Emeritus Yehia El-Ezabi and former Trustee Ali Al Sharhan had the distinct pleasure of meeting with His Excellency Sheikh Nahayan bin Mubarak Al Nahayan, UAE Minister of Culture, Youth, and Community Development. On behalf of the TIRF Board, Dr. El-Ezabi and Dr. Al Sharhan presented to Sheikh Nahayan the landmark book entitled Teaching and Learning English in the Arabic-Speaking World. The book, edited by Kathleen M. Bailey and Ryan M. Damerow, and jointly published by TIRF and Routledge, was dedicated as a festschrift to Sheikh Nahayan. The Sheikh was recognized in this way for his generous gift to the Foundation, which funded the pioneering research of nine scholars selected by TIRF as "Sheikh Nahayan Doctoral Fellows." These Fellows' research investigates key issues in the teaching and learning of English in Arabic-speaking countries, in fulfillment of the requirements for their doctoral degrees at leading universities.
At the time of publication, eight of the nine Fellows had completed their research and had received their doctoral degrees. Each of these nine Fellows contributed chapters to the book, based on their dissertations.
In the words of Professor El-Ezabi, "The Sheikh was visibly pleased to see the book as a concrete outcome of the Fellowship program. It was one of those moments which captured the meaning and value of a clear vision and a fulfilled initiative."
The initiative started some years ago when Sheikh Nahayan, then UAE Minister of Higher Education and Research, and Chancellor of the UAE University, was briefed on the mission of TIRF. The Sheikh has long believed that investment in education is the best investment for the future, and that English, both as an international language and as a language of instruction in various subject-matter areas, is a crucial component of that investment. As a dedicated leader, his response to and support of TIRF's mission was immediate.
It is noteworthy that the research made possible under the Fellowship program was conducted in six Arab countries: Egypt, Lebanon, Oman, Palestine, Saudi Arabia, and the UAE. However, many of the research findings extend well beyond the geographical boundaries of these countries. Thus, the Sheikh Nahayan Fellowships have contributed to the growth of the research network of English language education scholars in the Arab World. In fact, one of the first three Sheikh Nahayan Doctoral Fellows became the doctoral supervisor of one of the last three!
The volume dedicated to Sheikh Nahayan is the first book-length publication produced by TIRF. It is part of an agreement with Routledge (Taylor & Francis) to publish studies completed by TIRF grant recipients. Further details about the book, including how to order, can be found by clicking here.