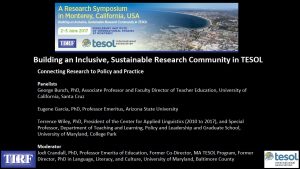 We are pleased to report that the panel recordings from the TESOL-TIRF Research Symposium are now available online. There are three recordings that resulted from the event – "Building an Inclusive, Sustainable Research Community in TESOL" – held earlier this year in Monterey, California. Each of the three panels that were filmed during the Symposium are now available as individual videos on TIRF's YouTube channel.
The following text will provide the titles of the panels, descriptions of the panels, as well as the names of the panelists and the discussants. Links to each of the recordings are also included.
"TIRF Research Priorities & TESOL Research Agenda"
Panelists: Dudley Reynolds, PhD, TESOL International Association President, 2016-2017; Kathleen M. Bailey, PhD, ​President of The International Research Foundation for English Language Education; Professor at Middlebury Institute of International Studies
Moderator: Jun Liu, PhD, TIRF Vice President; Vice Provost for Global Affairs, Dean of International Academic Programs and Services, Professor of Linguistics, Stony Brook University
Description: This panel presents TESOL's most recent research agenda, as well as the TIRF research priorities. The panelists compare the commonalities and synergies as we move forward in guiding the field of TESOL to the next level of excellence through research. The discussion touches on theoretical research frameworks in different paradigms, including research methodologies on the continua of qualitative and quantitative methods (or a combination of both) to tackle problems that exist in learning and teaching English. The panelists suggest ways to empower collaborations between researchers and teachers, as well as teacher researchers. The moderator and discussants of the panel invite audience members to engage in thinking and probing in order to reflect on the research agenda against their daily practice and their own research interests. The viewers will take away the following from the panel discussion: (1) what the TESOL research agenda is, and (2) what the TIRF research priorities are, and how the participants can take initiative in participating and engaging in doing research in their respective roles as researchers, teachers, and teacher researchers.
"Understanding the Relationship between Research Questions and Methodologies"
Panelists: Ester de Jong, EdD, University of Florida; Maricel G. Santos, EdD, San Francisco State University; Thor Sawin, PhD, Middlebury Institute of International Studies at Monterey
Moderator: Judy Sharkey, PhD, University of New Hampshire
Description: Contrary to how they may appear in publications, research design and implementation are not linear, sequential processes. In fact, upon identifying a focus area, researchers then begin a dialogic process between question articulation and choosing appropriate research method(s). In this panel, three different researchers share their processes in developing research questions, choosing data collection and analysis methods, and the benefits and limitations of their choices. Maricel Santos shares her work with community-based research, focusing on the role of community voices in design and impact. Thor Sawin discusses the design of a large language learning survey administered to workers in an international organization and the challenges in turning a large corpus of coded text into a compelling publishable "story" about the population surveyed. Finally, Ester de Jong focuses on how a mixed-methods approach to investigating teacher achievement allowed for the exploration of different research questions but also brought its own challenges. An interactive Q&A closes the session.
"Connecting Research to Policy and Practice"
Panelists: George Bunch, PhD, Associate Professor and Faculty Director of Teacher Education, University of California, Santa Cruz; Eugene Garcia, PhD, Professor Emeritus, Arizona State University; Terrence Wiley, PhD, President of the Center for Applied Linguistics (2010 to 2017), and Special Professor, Department of Teaching and Learning, Policy and Leadership and Graduate School, University of Maryland, College Park
Moderator: Jodi Crandall, PhD, Professor Emerita of Education, Former Co-Director, MA TESOL Program, Former Director, PhD in Language, Literacy, and Culture, University of Maryland, Baltimore County
Description: Research emerges from questions of policy or practice and can also lead to (recommendations for) changes in both as well as the need for new research. In this panel, three researchers discuss how research has led to major efforts to affect educational policy and practice. George Bunch describes the role research played in the Understanding Language initiative's efforts to influence policy and practice to improve K-12 education for English learners in the US, at a time when new standards for English language arts, mathematics, and science were being implemented. Gene Garcia discusses the role of U.S. educational policies in shaping the formal educational experience of English learners in dual-language programs, focusing on current research findings and additional research needed to improve these programs and support their implementation for all children. Terry Wiley reviews a number of exemplary dissertations and case studies in his focus on the role of interpretive policy analysis in the implementation of structured English immersion in Arizona, with a view toward language policy as process and consequence. Q&A and further discussion follow the three presentations.