In late October last year, TIRF issued a call for support of the Foundation, and our donors stepped up to the challenge.
When the pandemic first took hold of the world in early 2020, TIRF decided to forgo its midyear appeal and plan ahead for a matching campaign, in which the Foundation's Trustees would match donors' gifts dollar for dollar. The TIRF Board members pooled funds amounted to a total of $15,000.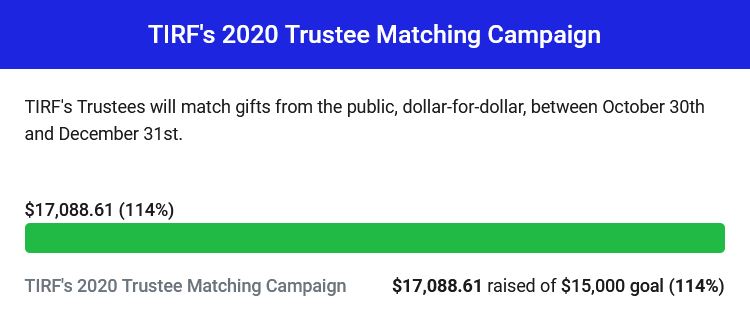 The matching campaign lasted for just over two months, ending on December 31st. We are proud to share that we not only met our goal of raising $15,000 from our supporters, we surpassed it by more than $2,000!
From all of us here at TIRF, we want to thank you for your generous contributions. The result of your efforts helped to secure more than $32,000 for the Foundation. These funds will be used to further our programs and help offset administrative costs associated with operating TIRF.