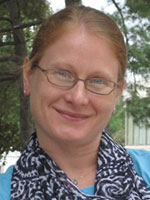 Editor's note: Dr. Polina Vinogradova received a TIRF DDG in 2008, and since that time she has been a loyal TIRF supporter. In November 2011, she agreed to be interviewed by TIRF for its newsletter and website. In March 2015, she reflected on her DDG experience during a video-recorded interview. The following piece has been adapted from NAFSA's website for TIRF's newsletter.
 Dr. Polina Vinogradova, 2008 TIRF Doctoral Dissertation Grants awardee, has been recognized with an award from NAFSA: Association of International Educators. The organization's Innovative Research in International Education Award is made by the Teaching, Learning, and Scholarship Knowledge Community (TLS KC) and focuses on curriculum internationalization, research that informs practice, and intercultural communication. TLS KC serves faculty, administrators, graduate and postdoctoral students, researchers, intercultural trainers, cross-cultural counselors, and other professionals in international education. This award celebrates and recognizes new and innovative research with potential or demonstrated impact in the field of international education. Impacts may include (but are not limited to) a policy or programmatic change, increased awareness of an issue, or a change in thinking among a group of professionals.
Dr. Polina Vinogradova, Director of the TESOL Program in the Department of World Languages and Cultures at American University in Washington, DC, works with graduate TESOL students and teaches courses in second language teaching methods. In her research, she explores ways to introduce participatory approaches to English as an additional language education and language teacher development. In particular, she studies pedagogical uses of digital stories and the role of a pedagogy of multiliteracies in student and teacher empowerment. Dr. Vinogradova holds a PhD in Language, Literacy, and Culture from the University of Maryland, Baltimore County (UMBC) and has master's degrees in TESOL from the University of Northern Iowa and in Intercultural Communication from UMBC.
Dr. Vinogradova's chapter "Teaching with Digital Stories for Student Empowerment and Engagement" (in Carrier, Damerow, and Bailey, Eds., 2017, Digital Language Learning and Teaching: Research, Theory, and Practice; Routledge & TIRF) presents a study that explored potential for digital stories to facilitate gradual introduction of overt instruction through multimodal scaffolded collaborative activities in an English as a second language class. Here, the term overt instruction refers to systematic and explicit instructional interventions that build on the learners' strengths and backgrounds and create new knowledge through collaborative efforts between the students and the teacher. The findings illustrate that with overt instruction and through activities involved in digital story production, English language learners gained understanding of multimodal meaning making and engaged in meaningful communicative practices in English. They also developed a positive view of themselves as English language users and found ways to support each other thus developing an engaging and creative multicultural classroom environment.
This year's Innovative Research in International Education Award submission deadline is February 25, 2018. Please click here to learn more.