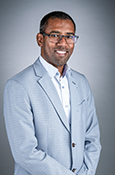 Editor's Note: Dr. Aymen Elsheikh (left), a 2010 recipient of a TIRF Doctoral Dissertation Grant, is the current President of Africa TESOL. The organization has 21 affiliates representing national associations in 20 different African countries.
Dr. Aymen Elsheikh has been spearheading an initiative to bring panel discussion opportunities to TESOL professionals in Africa and around the world on topics related to personal, professional, and leadership development. Two such panels were hosted in July and they will be continued throughout the year. In these webinars, Africa TESOL affiliate leaders and active members will be featured as panelists to reflect on their experience of personal, professional, and leadership development.
The first panel was about the personal and professional stories of well-known academics and practitioners in the ELT field. It featured presentations by Alan Maley, Harry Kuchah, Claudia Ferradas, Adrian Underhill, Malu Sciamarelli, and Chrysa Papalazarou. It was based on the British Council publication, Developing Expertise through Experience, which was edited by Alan Maley (2019). This volume can be downloaded for free.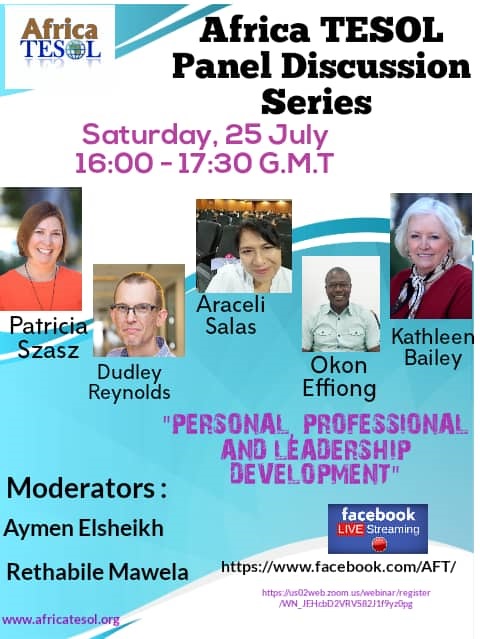 The second panel presentation featured selected authors with chapters in the recently published book, The Role of Language Teacher Associations in Professional Development, which is co-edited by Aymen Elsheikh and his colleagues Christine Coombe and Okon Effiong. The speakers were Dudley Reynolds, Araceli Salas, Okon Effiong, Patricia Szasz, and TIRF Trustee, Kathi Bailey. The speakers reflected on their chapters and the implications they have on personal, professional, and leadership development.
"Our purpose in organizing these panel discussions was to give teachers in Africa and beyond a sense of how they can develop personally, professionally, and also grow their leadership skills," said Dr. Elsheikh.
Over 200 hundred participants took part in the panel discussions, both on Zoom and Facebook Live. Countries represented by this audience included Algeria, Argentina, Benin, Burkina Faso, Cameroon, Colombia, Côte d'Ivoir, Egypt, Ghana, Guinea-Conakry, Honduras, Hungary, India, Mexico, Morocco, Nepal, Puerto Rico, Pakistan, Qatar, Saudi Arabia, Senegal, Singapore, Sudan, the US, the UK, among many others.