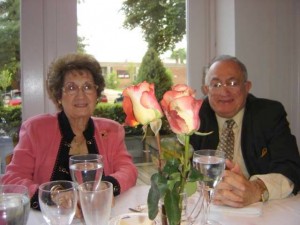 With great sorrow in our hearts, we regret to share that TIRF Trustee Emeritus Dr. James E. Alatis passed away on Saturday, February 28th in Arlington, VA. Dr. Alatis, known as Jim to us, was one of TIRF's founding Trustees. His indomitable legacy will live on for decades to come, as his contributions to TIRF as an organization, and to our Board members and our supporters, personally, are absolutely irreplaceable. Dr. Alatis shared in the vision that our field needed an organization like TIRF in order to further the advancement of knowledge in our field through remaining dedicated to research. We will forever be in debt to Dr. Alatis because without his efforts the establishment of TIRF might never have been possible.
According to a website created in Dr. Alatis' memory, Dr. Alatis passed away peacefully surrounded by his family and friends. He was a loving husband, father, grandfather, and brother. Dr. Alatis is survived by his wife Penelope M. Alatis of 63 years; his three sons William J. Alatis and wife Olya, Stephen J. Alatis, and Anthony J. Alatis; his grandchildren James A. Alatis, Alexa P. Alatis, and Natalia R. Alatis; and his sisters Despina Dandalides (and her husband George) and Frances Vlahos. He was preceded in death by his brothers John, Charles, and Manuel, and his sister, Anna Lucas.
For many years, Dr. Alatis served as Dean Emeritus of the School of Languages and Linguistics at Georgetown University. He was also Distinguished Professor of Linguistics and Modern Greek and Senior Advisor to the Dean of Georgetown College for International Language Programs and Research. He taught for 46 years at Georgetown University. Dr. Alatis served as the first Executive Director of the TESOL International Association from 1966 to 1987. He was also employed by the U.S. Department of State as English Teaching and Testing Specialist, as well as the U.S. Office of Education, where he worked in language research and materials development. Dr. Alatis had also served on the Boards of Directors for the National Council for Languages and International Studies and the Joint National Committee for Languages.
Dr. Alatis' family will receive friends on Wednesday, March 4, 2015 and Thursday, March 5, 2015 from 4pm to 8pm at the Everly Wheatley Funeral Home, 1500 W. Braddock Rd., Alexandria, VA 22302. The Funeral Service will take place on Friday, March 6, 2015 at 11am at St. Katherine's Greek Orthodox Church, 3149 Glen Carlyn Rd., Falls Church, VA 22041. Interment will follow at Columbia Gardens Cemetery.
We would like to convey our deepest condolences to Dr. Alatis' family and friends during these difficult times. His commitment to TIRF, devotion to the field of language education, and compassion to his friends will be sorely missed. If you would like to share your thoughts with Dr. Alatis' family online, you can do so at the link shared above or on the funeral home's website by clicking here.