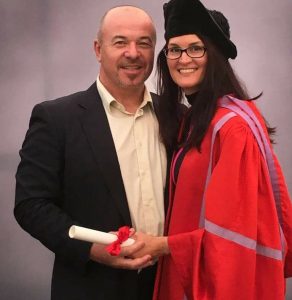 We are pleased to share with our readers that Dr. Melanie van den Hoven completed her doctorate at Durham University earlier this year. Dr. van den Hoven is one of nine TIRF Sheikh Nahayan Fellows who were granted awards from TIRF between 2008 and 2010.
Dr. van den Hoven's study is entitled The Perspectives of Female Emirati Pre-service Teachers on the Use of English as a Medium of Instruction: An Ethnographic Investigation. According to her final report on TIRF's website, findings from Dr. van den Hoven's study "shed light on the meanings Emirati pre-service teachers have of English in light of its use as a medium of instruction and the social influences mediating these understandings of what English is and means for them. … The findings are concerned with (1) how English is conceptualized within individual linguistic repertoires and (2) what awareness there is of English as one of many languages used in the Abu Dhabi speech environment." Further information about her study can be found by clicking here.
TIRF and its Trustees remain grateful to Sheikh Nahayan bin Mubarak Al Nahayan, former Minister of Higher Education and Scientific Research of the United Arab Emirates, who provided TIRF with a major grant to support research on the teaching and learning of English in the Arab world.
Please join us in congratulating Dr. van den Hoven!