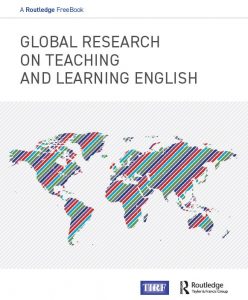 TIRF has some good news for its supporters, especially those interested in the series of books the Foundation has been producing with Routledge (Taylor & Francis) over the last seven years. Earlier this year, TIRF's Publications Chair Committee, Andy Curtis; TIRF President, Kathi Bailey; and TIRF's Chief Operating Officer, Ryan Damerow began working together with Routledge's team to produce TIRF's first-ever FreeBook with Routledge.
According to its website, Taylor & Francis offers free resources to assist individuals like you to "discover and engage with topics across professional and academic communities." FreeBooks are "a curated collection of existing AND new content around a specific subject, which provides you with valuable insight into a topic, a short solution, or helpful tips."
The FreeBook TIRF has co-published with Routledge features one chapter in each of the six previously published books in the "Global Research in Teaching and Learning English" series. In addition, readers will find a not-yet-published chapter from the TIRF-Routledge volume, Chinese-speaking Learners of English: Research, Theory, and Practice, which is expected to be published late this year or early next. The table of contents for the FreeBook can be seen at the end of this piece.
We would be remiss if we did not point out the incredible ongoing support of all TIRF's colleagues at Routledge. We especially want to thank Ms. Karen Adler, our Editor at Routledge, for her initiation of this project, in further promotion of TIRF's mission and work.
We hope that this valuable resource will be of use to all TIRF supporters, as well as those colleagues who may be just learning about TIRF, and the important issues written about in the FreeBook. Please click here to access the FreeBook.
OVERVIEW
By Andy Curtis
1: AN OVERVIEW OF RESEARCH IN ENGLISH LANGUAGE TEACHER EDUCATION AND PROFESSIONAL DEVELOPMENT
By JoAnn Crandall and MaryAnn Christison
2: EXPLORING THE IMPACT OF TEACHER EDUCATION PEDAGOGY ON EFL READING TEACHER IDENTITIES:
A United Arab Emirates Case
By Fíodhna Gardiner-Hyland
3: CORPUS-BASED LEXICOGRAMMATICAL APPROACH TO GRAMMAR INSTRUCTIONS: Its Use and Effects in EFL and ESL Contexts
By Dilin Liu and Ping Jiang
4: EMPOWERING TEACHERS FOR THE DIGITAL FUTURE: What Do 21st-century Teachers Need?
By Michael Carrier and Andrew Nye
5: THE ABSENCE OF LANGUAGE-FOCUSED TEACHER EDUCATION POLICY IN U.S. K12 CONTEXTS: Insights from Language Socialization Research in a Ninth-grade Physics Classroom
By Sarah Braden and MaryAnn Christison
6: HOW TEACHER CONCEPTIONS OF ASSESSMENT MEDIATE ASSESSMENT LITERACY: A Case Study of a University English Teacher in China
By Yueting Xu
7: THE APPLICABILITY OF THE CSE AS A SELF-ASSESSMENT TOOL FOR SCHOOL TEACHERS
By Xiangdong Gu, Nick Saville, and Ting Zeng