Editor's note: In this piece, TIRF Trustee Michael Carrier provides updates on his ongoing English language education work in Africa.
For the third winter in a row, I have been transported from foggy London to the bright skies of Africa to support English language teaching in the region. This year, from November 2020 to March 2021, the visit was unfortunately only virtual because of Coronavirus.
My colleagues and I at Highdale Consulting have just completed two new language education projects for the British Council's sub-Saharan Africa development program, "English Connects." These projects aim to help young adults aged 16-25 to develop their English skills, not only for educational advancement but also for improved employment opportunities.
Setting the Context
As I reported in February 2020 about our in-country research into vocational English in Gabon and Djibouti, young people are suffering from a lack of employment opportunities across Africa. Much of the investment that creates new jobs is from international companies, notably, in recent years, from Chinese companies. These businesses use English as a lingua franca in their company operations. Thus, to get any kind of job – even as an intern, a receptionist, or as a warehouse worker – a core level of English is required.
Most of the 54 countries of Africa are multilingual, using both local and international languages as the 'official' language of the country. Some 31 countries are Francophone, where French is one of the official languages, and six countries are Lusophone and use Portuguese as the official language. So, in the majority of African countries, young school-learners and university graduates are working with English as a foreign or additional language. Even in those countries where English is one of the official languages, it is still usually an additional language and not a mother tongue for most learners. Inevitably, they may need extra learning support to use English for education and employment.
"English Connects" from the British Council
One of our "English Connects" projects was the development of "English for the Workplace." This course will be provided online and on students' phones, with teachers providing class-led input via Zoom or WhatsApp. It was designed for learners who left school, or were in low-resource classes, and could be motivated to learn outside school time. The courses cover three CEFR levels – A1, A2, B1 – and give learners the basic workplace English language skills they need.
The material is not published commercially but delivered free to schools, teachers, and learners.
It consists of a series of 32 units per level, with six video dialogues for each. In total, that's 192 short video clips per level – all of which are contextualized around the work of a new African tech startup.
The young company, called "Startup!," was founded by young African graduates. The characters (from different parts of Africa) work together in a fresh and dynamic business environment. The videos provide semi-authentic dialogues of work and office life and the associated activities and exercises help learners activate that language.
Radio: The Forgotten Medium
The other project, "Radio Afrique," was an update to the 2019 "English by Radio" project. The original series of 20 English language learning radio programs had been designed for Francophone countries in West Africa. Dialogues and listening texts in English were linked together by a presenter, explaining in French how to understand and activate the language of the English input.
This project was successful in Francophone countries like Senegal, Mali, and Cote d'Ivoire. But when the British Council colleagues tried to introduce it to other parts of Francophone Africa, local partners felt that it was too West African. They felt the learners might be de-motivated by the programs set in a regional West African context.
So, we needed to re-write and re-record the 20 programs to make them more pan-African, replacing Senegalese contexts with East African or Southern African contexts, to make the learning materials more accessible to a wider audience. This meant changing names and places as well as references to food, music, and celebrities.
Having completed this task, we heard that there were new partners in the Lusophone countries (such as Angola, Guinea-Bissau, and Mozambique) who were keen to have the same learning materials – but with the presenter explaining the activities in Portuguese, not French. So, my Christmas break was spent searching for Angolan and Mozambican actors who could voice the programs in English and Portuguese – not an easy task even in a global city like London! But we found wonderful actors who were able to encourage and motivate the young adult learners in our project.
Our next steps involved re-recording parts of all 20 programs to replace French with Portuguese. Doing so is not as straightforward as it sounds. Languages take different amounts of time to say the same things – in more or fewer words, and with different pauses and rhythms taking a shorter or longer time.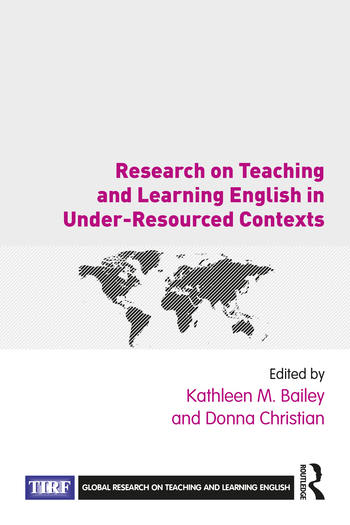 The culmination of our projects will provide free and accessible and (we hope) motivating learning material to support young African adults in finding new educational and employment opportunities. And with any good fortune, I've given TIRF Today readers ideas for furthering their own efforts in under-resourced teaching contexts.
For more information on Radio Afrique, please click here. And for those who are interested in finding out more about language education in under-resourced contexts, please consider learning about TIRF's new volume, Research on Teaching and Learning English in Under-Resourced Contexts, which has just been published in collaboration with Routledge. This book is an important contribution to the field, especially for educators in contexts across Africa. Teachers need new approaches to support them in low-resource contexts and help young people get the learning success they need and deserve.