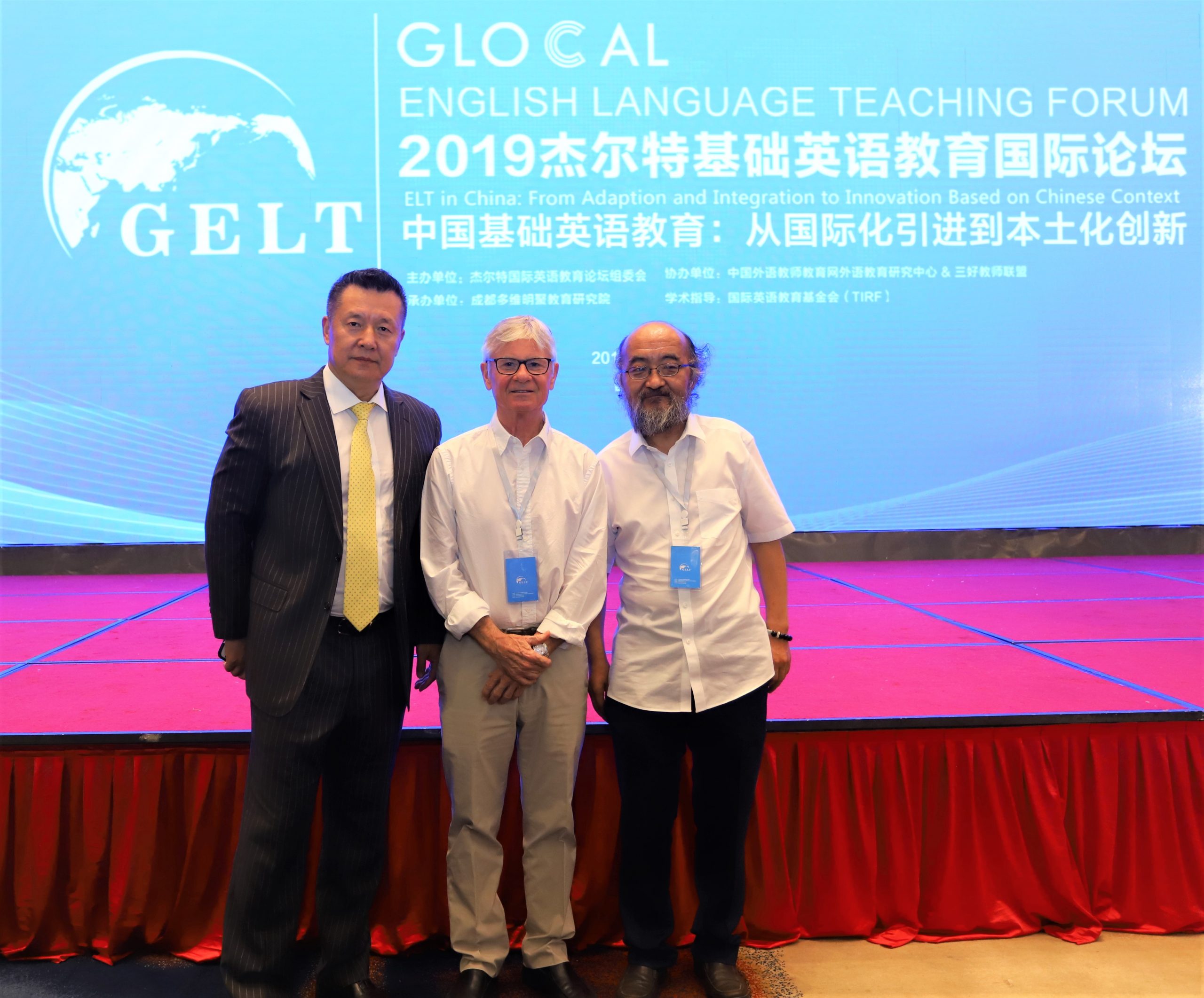 At the TESOL 2019 Convention in Atlanta, TIRF President, Kathi Bailey, and Derek Liu, Dean of the Chengdu Duoweimingju (DWMJ) Institute of Education, signed an agreement for TIRF and DWMJ to jointly organize a professional development program for Chinese language teachers and researchers. The program was envisioned to take the form of fora and workshops. Three events a year will be run over the next five years, one event being face-to-face, and two being offered online.
The first event in the Global English Language Teaching (GELT) Forum, took place in Chengdu July 30-31, 2019, and was entitled "GLOCAL English Language Teaching Forum." Session types included plenary speeches, teacher-led sessions of aspects of teaching, thematic symposia, a workshop, and a round-table discussion. TIRF was represented at the Forum by Executive Committee member David Nunan, who gave the opening plenary, and Vice-President Jun Liu, who gave the closing plenary. The event was enthusiastically received by the attendees, who came from all over China.
The five-year program promises to give TIRF considerable visibility in a country that has more EFL teachers and learners than any other country in the world. This conference is the first event in China for TIRF to be officially recognized. Through the introduction of both David and Jun to the DWMJ audience, TIRF is establishing its presence in China and gaining the opportunity to further its mission there. TIRF will continue to gain broader visibility by giving more presentations and by having a regular session at this annual conference during the years of the contract.
Asked for comment about the excitement of the GELT Forum, Derek Liu said the following: "More than 600 teachers in K-12, teaching supervisors and graduates students from China attended the forum. The GELT Forum is the platform for communicating and spreading the ideas and practices of English education in China to the ELT community in the world. It is an event in which ELT practitioners in China can come together to share their work and their stories. With the help of TIRF, Professor David Nunan and Professor Jun Liu gave plenary speeches at the GELT Forum and were very well received by the audience."
To learn more about the TIRF-DWMJ partnership, please click here.