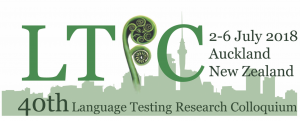 Editor's note: In this piece, TIRF Trustee Dr. MaryAnn Christison shares information with TIRF Today readers, regarding the LTRC conference that took place earlier this month in New Zealand. Please note that TIRF Trustees travel at no cost to the Foundation.
The TIRF Board of Trustees was pleased to support the International Language Testing Association (ILTA) at its annual meeting, the Language Testing Research Colloquium (LTRC), July 2-6, 2018 at the University of Auckland in Auckland, New Zealand. Five members of the TIRF Board of Trustees attended and participated in the five-day event—MaryAnn Christison, University of Utah; Joe Lo Bianco, University of Melbourne; Barry O'Sullivan, the British Council; Spiros Papageorgiou, Educational Testing Service; and Nick Saville, University of Cambridge English Language Assessment.
MaryAnn Christison (along with her colleague, Adrian Palmer, TIRF donor and co-founder of LTRC) received a grant from Language Learning to convene a pre-conference Roundtable at LTRC 2018 entitled, "Connecting Language Testers and Specialists in L2 Pedagogy: Issues in Classroom-based Language Assessment." The day-long event brought together about 30 people—nine roundtable presenters and a participant audience of about 20 persons—for a rich discussion and exploration of ideas about classroom-based language assessment. As Christison stated in her introduction to the Roundtable, "Classroom-based language assessment has been a concern of language testers for many years, and language testers and specialists in L2 pedagogy have many crossover interests in assessment. Because there has been an increase and an interest in classroom-based language assessment among both language testers and specialists in L2 pedagogy, it seems like a perfect time for these two groups to come together as first steps in developing a joint agenda."
Trustee Joe Lo Bianco was invited to present the Alan Davies Lecture, which was sponsored by The British Council and entitled, "No Policy without Testing! How the Language of Policy Persuasion and Persuasive Language Help to Make Testing Count." In his plenary, Lo Bianco made the point that in policy-making discussions, testing has a particular kind of presence and power because of what tests produce, or are assumed to produce, i.e., empirical statistically presented evidence of phenomena, characterized by objectivity, reliability, and validity.
Trustee Spiros Papageorgiou and his colleagues from ETS presented an excellent symposium on validation entitled, "Re-conceptualizing, Challenging, and Expanding Principles of Test Validation." In addition, Trustees Barry O'Sullivan and Nick Saville joined colleagues from China in presenting a symposium that focused on the changes in large scale assessment practices in China. The panel presentation was entitled, "China's Standards of English Language Ability: Impetus for Change in Language Learning, Teaching, and Assessment." Both symposia were excellent and well attended.
TIRF is also pleased to acknowledge the active involvement in LTRC of former TIRF DDG recipients in language assessment, such as Ching-Ni Hsieh, who presented a paper with her colleagues on the "Developmental Patterns of Young EFL Students' Oral Narratives." In addition, the most recent TIRF DDG recipients in language assessment were acknowledged by the TIRF Trustees at the Awards Banquet on the final evening of the conference. They each received a beautiful plaque, which was prepared for TIRF by Cambridge Assessment English. The DDG awardees for 2017 in the area of language assessment were  Heidi Liu Banerjee Teachers College, Columbia University; Alisha Biler, University of South Carolina; Jacqueline Grossart, University of Strathclad; Giang Hoang, University of Melbourne; Özgür Şahan, Çanakkale Onsekiz Mart University; and Friederike Sell, University of Bonn.