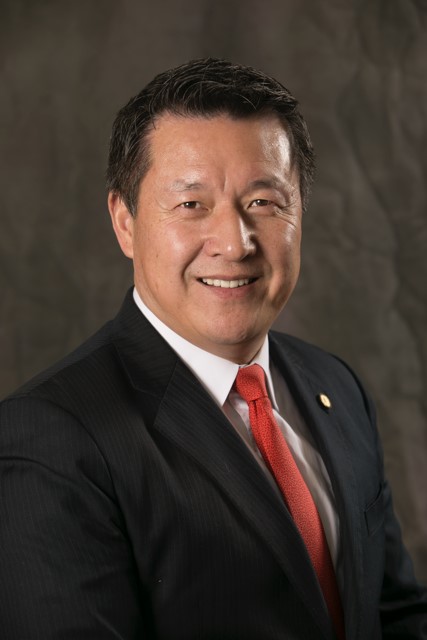 Editor's note: The story shared here originally appeared on the website of City University of Macau. The content has been edited slightly for the purposes of TIRF Today.
The City University of Macau strives to fulfill its mission and social responsibility of "Rooted in Macau and Serving the Greater Bay Area." It has been keeping up its efforts to enhance teaching quality, raise research standards, and attract talent. As the result of a global search, Professor Jun Liu has been appointed Rector of the University and he assumed office on March 1, 2021.
Professor Liu is an internationally renowned educator and scholar with over 40 years of language education experience. He received his PhD from the Foreign and Second Language Education Program in the College of Education at the Ohio State University in 1996. Professor Liu served as Vice President and Vice Provost for Global Affairs, Dean of International Academic Programs and Services, Founding Director of China Center, and Professor of Linguistics at Stony Brook University (2016-2021). He also served as Associate Provost for International Initiatives and Professor of Applied Linguistics at Georgia State University (2011-2016), and as Professor and Head of the Department of English and Assistant Vice President at University of Arizona (1998-2011).
Professor Liu has published extensively in the area of language teaching methodology, sociolinguistics, curriculum development, and intercultural communication. He has authored more than 20 books and 100 papers and book chapters to date. A sought-after public speaker, Professor Liu has given more than 200 plenary and invited speeches in over 30 countries since 2000.

Professor Liu has distinguished himself by establishing a track record of success in the field of Applied Linguistics and Intercultural Communication, as well as Second Language Acquisition and Teaching. As an international leader in the field of language education, Professor Liu became the first Asian and nonnative English-speaking President of TESOL International (Teachers of English to Speakers of Other Languages, Inc. 2005-2007) and is the recipient of the James E Alatis Award of Outstanding Service to TESOL (2016). He has served as Vice President of TIRF (The International Research Foundation of English Language Education) since 2015, Vice President of TCSOL (Teachers of Chinese to Speakers of Other Languages) (2013-2019), and Member of the Board of AIEA (Association of International Education Administrators) (2015-2018).
Asked to comment on his new position, Professor Liu said, "I am excited to become Rector at the City University of Macau. Because I am an academic at heart, this position allows me to build on the experiences I have gained throughout my career and make contributions to a world-class university." He continued, "Given that I am living in such an important geographic region for English language education research, I envision new partnerships and activities for TIRF. I am thrilled to be in a position to introduce the work of the Foundation to new colleagues here and look forward to many synergistic opportunities on the horizon."
Please join us in congratulating Professor Liu on his new position in Macau!