From November 12 to 14, the English Teachers' Association-Republic of China (ETA-ROC) hosted both its 30th International Symposium on English Language Teaching and Learning and the 23rd International Conference and Workshop on TEFL and Applied Linguistics in Taipei, Taiwan. TIRF's Vice President, Jun Liu, was the keynote speaker for the events.
Jun's talk, entitled "Internationalization in Higher Education," fit the conference theme: Positioning the Issue of Linguistic Power of English – EMI, English Immersion, World Englishes, Internationalization in Higher Education, and Information Sharing and English as a Global Language. In his talk, Jun argued that "The impact of internationalization in higher education puts a high demand on language abilities and communicative competence, as well as promoting understanding of perspectives from all over the world. It is a challenging time to run business as usual. But we have a great opportunity to seek innovative ideas and models for international collaboration and partnerships."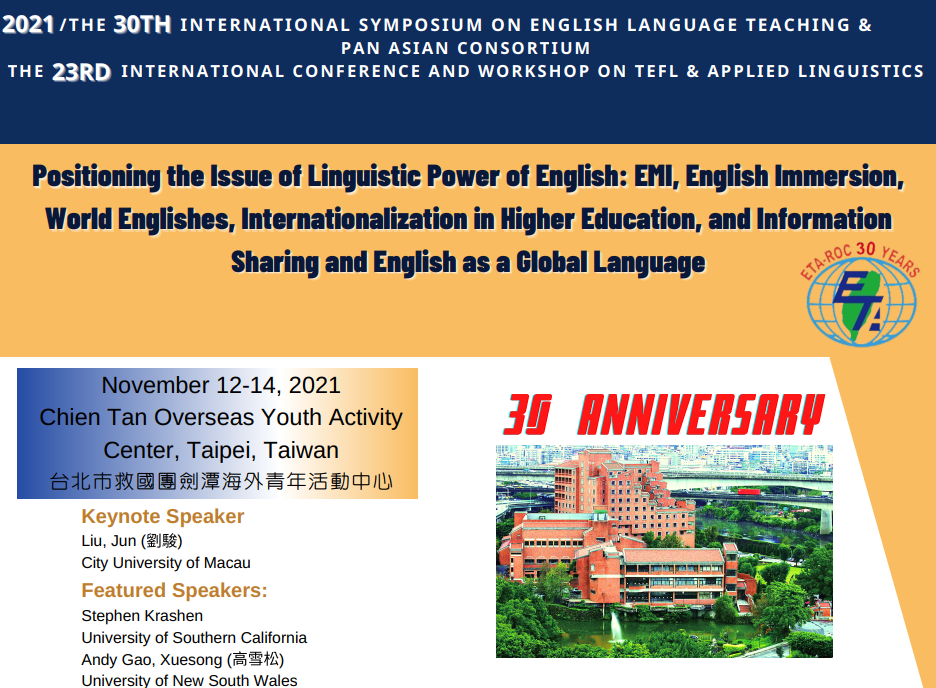 "Internationalization in higher education heavily relies on English as medium of communication," he continued. "English as a lingua franca also must involve people who are willing and/or able to communicate in English. There is danger in considering English merely as a subject. English, indeed, is an international language or means of communication that can bring people from all over the world together."
Asked to comment on his experience at the conference, Jun said, "I am grateful to all the colleagues and friends in Taiwan who have worked consistently and persistently for the last 30 years to make ETA-ROC a great success."
According to its website, ETA-ROC has three major goals as part of its mission:
To enhance the standard of English language teaching in Taiwan;
To exchange ideas on language teaching as well as learning and establish linkage with teaching professionals from countries such as the USA, the United Kingdom, Canada, Australia, Singapore, South Korea, Japan, Thailand, and Malaysia; and
To implement teaching methodology in schools of tertiary levels.
Click here to learn more about ETA-ROC and their event earlier this month.