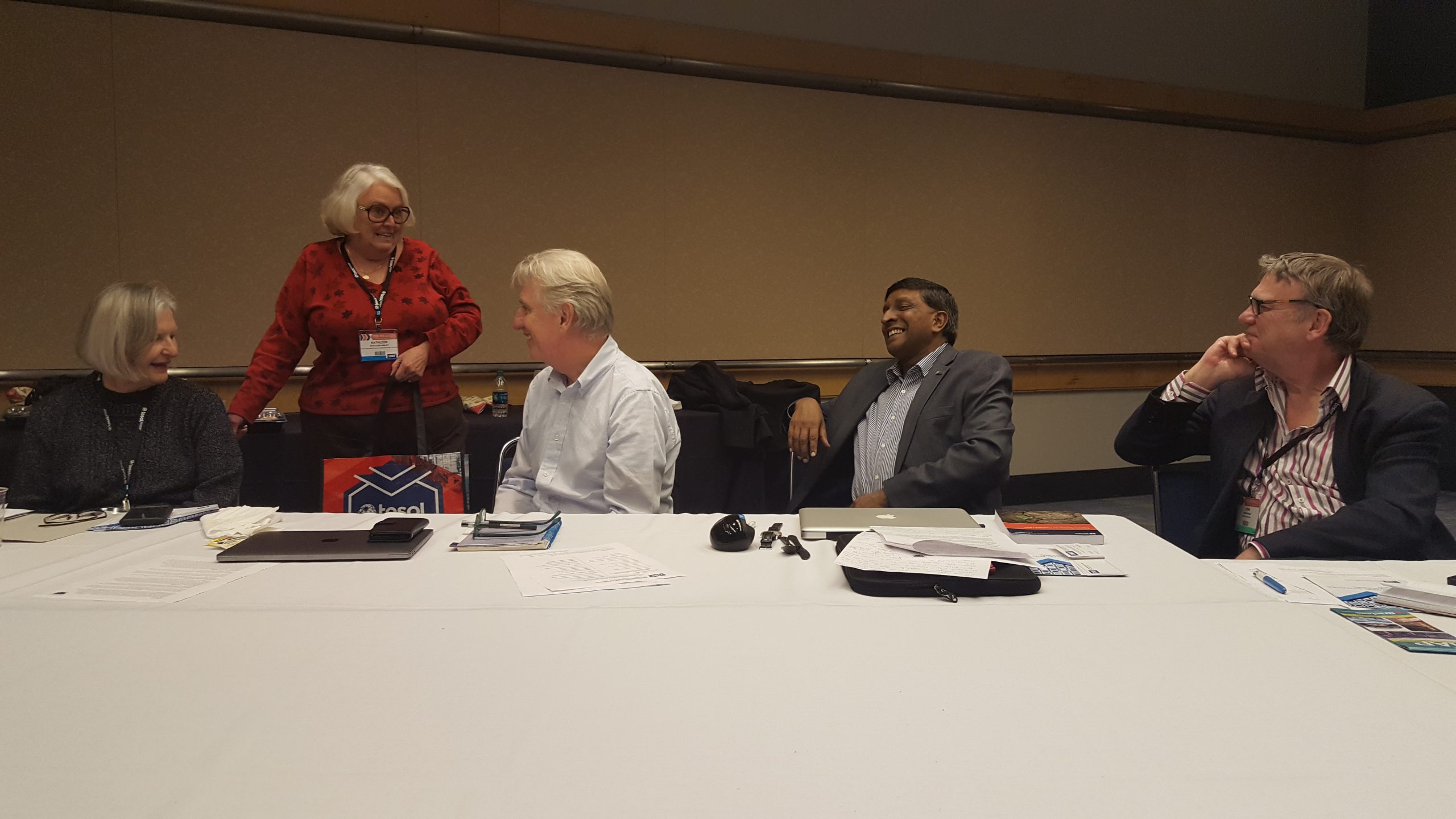 Just this past week, the Foundation held its biannual Board meeting in Chicago, Illinois, during the International TESOL Convention and English Language Expo. As is customary at TIRF's Board meetings, Trustees reviewed the work of the Foundation over the last six months, as well as prepared for its activities in the future.
Throughout the morning portion of the meeting, TIRF officers and committee chairs shared information with their colleagues concerning recent activities, including updates from Kathi Bailey, President and Chairman of the Board of Trustees; Jun Liu, Vice President; Ryan Damerow, Chief Operating Officer; Donna Christian, Secretary-Treasurer; MaryAnn Christison, Research Advisory Committee Chair; and Dick Tucker, Alatis Prize Committee Chair. In addition, Trustee Nick Saville shared information about Cambridge Assessment English and its partnership with TIRF; John Knagg and Barry O'Sullivan provided information about new British Council activities; and Joe Bookbinder and Jerrold Frank discussed news from the US State Department's Office of English Language Programs.
Another topical area covered during the Foundation's Board meeting was that of updates to TIRF's website, which has recently undergone changes to its homepage, navigation menu, and mobile responsiveness. In addition, several TIRF Trustees are making plans to celebrate TIRF's 20th anniversary in Atlanta, Georgia, during the 2019 TESOL Convention there.
Lastly, Trustees discussed plans for the professional service offerings TIRF is planning for the global community of language educators. In past newsletters and via its annual appeals, TIRF has noted that its ability to raise funds to support its programmatic and administrative activities has been limited. The need for TIRF to avoid yet another deficit year has never been greater. While the Trustees remain hopeful that they can generate new partnerships and cultivate stronger relationships with individual donors, TIRF's financial situation has become challenging. Therefore, to meet the Foundation's needs, TIRF's Trustees are evaluating professional services that can be offered to the field. Over the months ahead, further information about new TIRF programs and activities will be shared with supporters.
Editor's note: TIRF leadership remains grateful to its Trustees for helping to keep the Foundation running on a very lean budget. Breakfast and coffee is not provided at TIRF's March Board meetings. In addition, Trustees either seek institutional support to attend meetings, or they cover their own expenses. It is because of the Board members' dedication to the field that they support the Foundation in this way, so that TIRF may continue to serve the community of language educators.