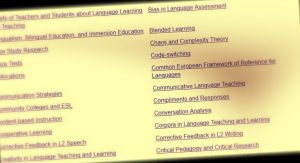 Due to the diligent efforts of several of our supporters, we are pleased to share with you that TIRF's collection of reference lists, which boasts more than 150 topics covered, was updated this month. It is our hope that through providing this resource to our stakeholders and the public, we will help the members of the broader language education research community further their work.
Of particular interest to our readers, we recently posted new lists on Blended Learning, Digital Games and Gaming in Language Learning and Teaching, Digital Literacy, Standard and Non-standard Languages, IELTS (International English Language Testing System), and Mixed-methods Research. Also, there were more than 20 other lists updated during this latest round of work completed on our resources. Click the link above to download and view free of charge the new and existing lists.
Without the commitment to our field from the following individuals, these excellent resources would not be available: Ben Carignan, Drake Cottman, Kendall Hornbacher, Jin Kyoung Hwang, Nick Morales, Sarah Young-Knowles, Hao-Che (Howard) Wu, and, of course, TIRF President Kathi Bailey. You can view the list of contributors to our reference lists at the link included above.
If you wish to add to our lists and have your name featured on our site, please consider writing to [email protected] with your suggestions. Many thanks to all of our supporters!