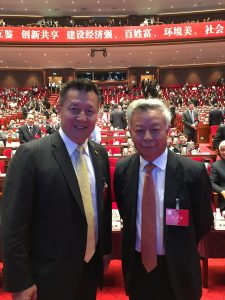 As an outstanding alumnus of Suzhou University, TIRF's Vice President, Dr. Jun Liu, was invited to participate in the first-ever Jiangsu Development Summit on May 20th in Nanjing, China. The summit aims to offer a platform where Jiangsuers from different walks of life, scattered throughout the world, can communicate and cooperate with one another, in an effort to build a better Jiangsu.
The Summit was designed to attract talent and ideas from those born and raised in Jiangsu who have achieved distinguished careers in all fields beyond the city and abroad. Some of the other invited attendees included Nobel Laureate Samuel C.C. Ting in Physics; Microsoft Executive Vice President, Artificial Intelligence and Research Group, Harry Shum; President of Asian Infrastructure Investment Bank, Liqun Jing; and New Oriental Education Group Board Chair, Michael Yu.
Dr. Liu was recognized as a well-known international educator who has contributed significantly to the development of English and Chinese language education in China. His accomplishments over the decades are exemplified through his innovative English language teaching model developed in Shantou University, and the teacher standards and certificate programs for Teachers of Chinese to Speakers of Other Languages he developed for Hanban, a public institution affiliated with the Chinese Ministry of Education.
Dr. Liu was subsequently invited to visit the Jiangsu Education Bureau, Nanjing University of Aeronautics and Astronautics, Huaian High School, and his alma mater, Suzhou University, where he gave a lecture on "Chinese Students in the United States: Opportunities and Challenges." Wherever he went, Dr. Liu wore his TIRF hat and planted seeds for future development.