As reported in the June 2023 issue of TIRF Today, fundraising to support the Russ Campbell Endowment began this past month. We are pleased to announce that to date TIRF supporters have contributed more than $11,000 to this initiative.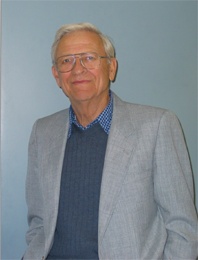 "Our first-stage goal is to raise $25,000 to establish the endowment by the time we convene for the September 2023 Board meeting," said Donna Christian, the Foundation's Secretary-Treasurer. "We are delighted with this initial response from TIRF's supporters."
The purpose of the endowment is to establish in perpetuity funding for the Doctoral Dissertation Grants (DDGs). Each year, the applicant who submitted the highest-rated DDG proposal receives the Russell N. Campbell Award, named for one of TIRF's founding Trustees.
"It's very appropriate to be honoring Russ in this way, and particularly to be remembering him at this time of year, as we are just finishing evaluating the 2023 DDG proposals," said Kathi Bailey, one of the Trustees working on the campaign. As one of his former students and later his employee, Kathi remembers Russ for his quiet leadership and his ability to bring people together to initiate research projects and partnerships. "He was an amazing listener," she recalled. "During meetings, he would mostly be quiet, and then he'd ask a question or make a suggestion that clarified whatever issue we had been debating. His comment would typically move the group forward to generating a workable plan."
In his career as a language teacher, researcher, and teacher educator, Russ was involved in English language teaching and teacher training programs (some of them through the Peace Corps) in Argentina, Armenia, China, Costa Rica, Egypt, Ethiopia, Iran, Italy, Jordan, Lebanon, Mexico, Nigeria, Peru, Poland, Romania, Thailand, Tunisia, Yugoslavia, and the United States.
With your help, we can meet our goal of raising a total of $25,000 between now and September 15, 2023. We will then seek to double this amount by March 20, 2024, raising a total of $50,000 over the next eight months.
To donate to the Russ Campbell fund, please use the following link: https://give-usa.keela.co/russ-campbell-endowment-campaign. If you would like to donate by check, please address your check to "TIRF" and mail it to: TIRF, PO Box 332, Interlochen, MI 49643-0332.