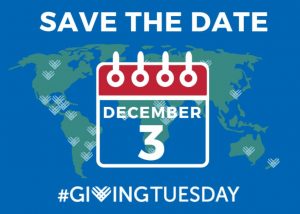 #GivingTuesday is coming up next week – Tuesday, December 3rd – and TIRF has something special in store for all its supporters. But before we unveil what that gift is, we would like to ask for your help next Tuesday in making a donation to TIRF. Doing so could help us unlock a matching gift from Facebook.
Starting at 8:00am EST (5:00am PST) on December 3, 2019 the match will go live, matching dollar for dollar on a first-come, first-served basis until it hits $7 million matched. You can help TIRF secure funds from Facebook by logging into your Facebook account, accessing TIRF's Facebook page, and then donating via the blue "Donate" button near the top of the page. Find TIRF's Facebook account online here: https://www.facebook.com/tirfonline/.
With our request to you noted, let's return to TIRF's gift to you. Over the last several months, we have been working together with our colleagues at Routledge (Taylor & Francis) to produce a FreeBook. This resource features one chapter from each of the six previously published books in the "Global Research on Teaching and Learning English" series. But the TIRF giving gets even better!
In the FreeBook, you'll also find a new, never-before-published chapter from our forthcoming volume on Chinese-speaking Learners of English: Research, Theory, and Practice! That's right, seven chapters, all seven of our books represented, all free for you and your colleagues! Please click here to access the FreeBook.
As this holiday season comes and goes, please do your best to remember TIRF. While the FreeBook mentioned above will be available to you, regardless of whether you donate to TIRF or not, our hope is that this piece may have moved your philanthropy needle to the point of making a donation to TIRF. Simply click here, login to your Facebook account, and send your gift to TIRF early on December 3rd! Alternatively, if you wish to donate to TIRF via its website, you may do so here (though your gift will be ineligible for Facebook's matching): http://www.tirfonline.org/donate/.
As always, thank you for your support, in whatever form it may take. Happy holidays to all of you!