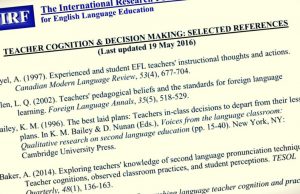 We are pleased to share that over the past couple of months, we have created several new reference lists to share with our stakeholders. The topics of these new additions include Race and Ethnicity, Meta-Analysis in Language Learning & Teaching, Questions in Language Learning & Teaching, Teacher Cognition and Decision Making, Metaphor, and Eye-Tracking Research.
Many other lists have also been updated over the last several months. To name a few, the topics of the updated lists include: Sociocultural Theory, Communicative Language Teaching, Teacher Education, Language Planning & Policy, and Self-Efficacy.
We would like to thank the following individuals for their contributions to our reference lists: Ben Carignan, Kelly Donovan, Lubie Grujicic-Alatriste, Nick Morales, Lucy Pickering, Handoyo Puji Widodo, Hao-Che Wu, and Jeehwan Yun.
TIRF's reference lists are available to the public free of charge. The lists are stored as Microsoft Word documents that may be downloaded and shared by individuals throughout our profession. If you are interested in suggesting new citations for existing lists or would like to suggest an entirely new topic, please write to [email protected].
As a reminder, TIRF has other useful resources for individuals to utilize freely. If you would like to learn more, please click here.