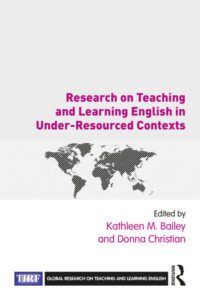 This book is the eighth volume in the Global Research on Teaching and Learning English series, co-published with Routledge (Taylor & Francis). It brings together the latest developments in research on teaching English in under-resourced contexts across the world, offering a window into the complex challenges that these communities face. Recommendations from research and experience in well-resourced contexts are frequently not relevant or feasible in different circumstances. Contributors explore local and regional assets and challenges to provide a deeper understanding of the difficult issues that language learners and teachers must confront, and they provide insights to meet those challenges.
With chapters written by TIRF Doctoral Dissertation Grant awardees, the volume addresses the crucial and growing need for research-based conversations on the contexts, environments, and challenges of teaching English in areas of the world with limited resources, literacy levels or other constraints.
The volume includes sections on policy connections, teacher preparation, and practice insights. It is a useful resource for graduate students and teacher educators in language education, ESL/EFL education, and international education, and an enlightening reference for all readers with an interest in language education around the world.
To view the book, please click here.