TIRF hosted its Fall Board meeting earlier this month, on September 15th via Zoom. Members of TIRF's Board of Trustees met to discuss a number of initiatives and laid the foundation for its work over the next six months and beyond. In this piece, we offer some key points from the meeting.
TIRF President Jun Liu kicked off the meeting by highlighting several notable accomplishments the Foundation has made since Trustees met in Portland, Oregon. TIRF's working groups have advanced the Foundation's efforts in creating a mechanism for TIRF's DDG alumni to help further its work, the inaugural TIRF-British Council Research Mentoring Awards, and the beginnings of a TIRF Talks speakers bureau. Jun added that TIRF has enjoyed several fundraising successes over the last six months.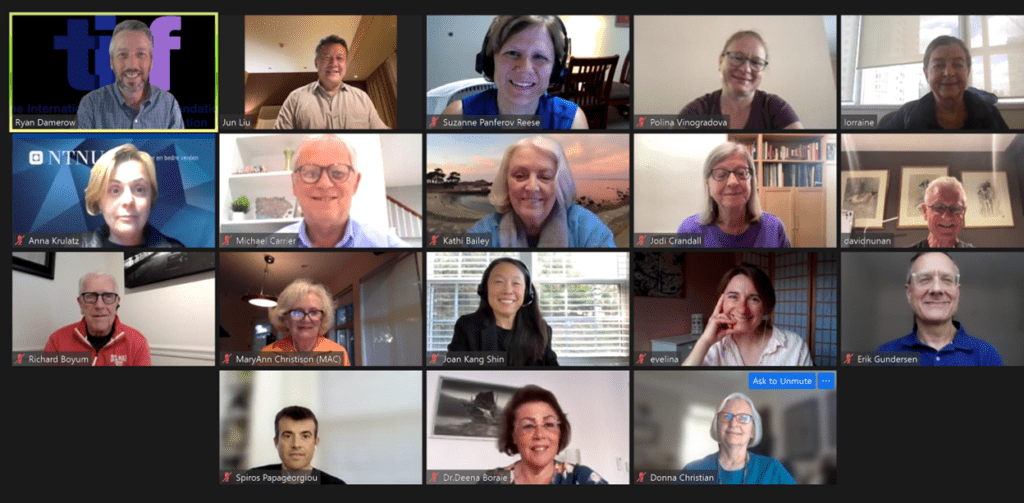 Building on Jun's discussion of Foundation's financial health, TIRF Secretary-Treasurer Donna Christian provided an upbeat report to the Board. She noted that TIRF is having a very successful year, in terms of revenue generation. Several large donations and increased rendering of professional services have assisted TIRF in adding to its cash reserves. The Foundation is expected to finish the year posting a surplus and avoiding the deficit it projected at the start of the fiscal year.
TIRF Trustees spent a large portion of their meeting discussing the values that define the Foundation and that underpin its mission while guiding its programs and goals. Some highlights from Trustees in this portion of the meeting include TIRF must (1) help to create equity in and access to English language education; (2) increase its reach in supporting educators in the language classroom; (3) embed sustainability in language education; (4) promote and offer activities that foster research on language education; and (5) make current issues in English language education accessible to a broad audience.
In the months leading up to TIRF's next Board meeting in March in Tampa, Florida, TIRF Trustees will be furthering their strategic planning efforts. Additional information will be shared with TIRF supporters at the appropriate time.
Members of TIRF's Board of Trustees serve on a voluntary basis and cover their own expenses to attend the Foundation's in-person meeting. They not only set the vision of the direction of TIRF, but also perform services and serve in working groups and committees for the Foundation. This approach to leading TIRF allows the Foundation to raise money to support its programs and operations.
We will continue to update our supporters in the months ahead. There are a number of programs, services, and activities that we look forward to announcing in TIRF Today, on our website, and across our social media platforms. Be sure to stay tuned for more TIRF updates!