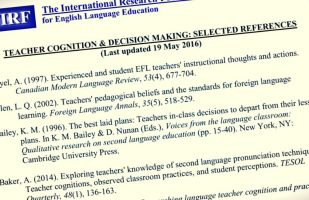 Whether you're new to our newsletter or have been reading TIRF Today since 2010, we want to remind our readers about the helpful– and free – resources we maintain. As new academic semesters are just beginning in many parts of the world, please consider visiting the "Resources" section of our website.
At the link provided just above, you and your colleagues can access a variety of useful information and links. In fact, one of our most frequented website sections is our "Reference List" page. There, you can find links to free, downloadable reference lists on more than 150 topics of interest in our field. We also provide grant and award information from organizations around the globe; there are links to like-minded organizations; calls-for-proposals for various types of publication opportunities; and much more!
Regardless of whether you are a first-year graduate student or a senior professor, we wish you a successful new semester of studying, teaching, and researching!