Dear TIRF Colleagues and Friends:
There's a time in your life when you are a child and a holiday is approaching and you are filled with excitement and anticipation. Such a time has arrived for me in my adult life.
Next month, the anticipation of waiting for many conferences in our field to arrive, like AAAL and TESOL, will finally be over. I am excited to finally reunite with colleagues and friends in Portland, Oregon, USA, after such a long time apart because of the pandemic. TESOL 2023 marks the first time since 2019 that I will see so many missed faces in real life.
March is an exciting time for TIRF as we have so much going on this month. Our first face-to-face Board of Trustees meeting since the pandemic hit will take place on the eve of the TESOL Convention's opening. We are anxious to see one another in person and continue planning TIRF's future direction and activities.
We are thrilled that TESOL President (and past TIRF Board member) Dr. Joyce Kling has invited TIRF to join her Wednesday morning TESOL Presidential Plenary, "Inspiring the Future of Research in ELT." This plenary will be a panel format co-moderated by President Kling and myself. The panelists participating in this session follow here:
Dr. Peter De Costa: Co-Editor, TESOL Quarterly; First Vice President, AAAL;Associate Professor & MATESOL Program Director, Michigan State University, USA
Professor Shondel Nero: New York University School of Culture, USA; Inaugural Recipient, TIRF James E. Alatis Prize (2016)
Professor David Nunan: Trustee, TIRF; Professor Emeritus, University of Hong Kong; Past President of TESOL International Association (1999-2000)
Dr. Özgehan Uştuk: Chair, TESOL Research Professional Council; Research Assistant, Bliskesir University, Turkey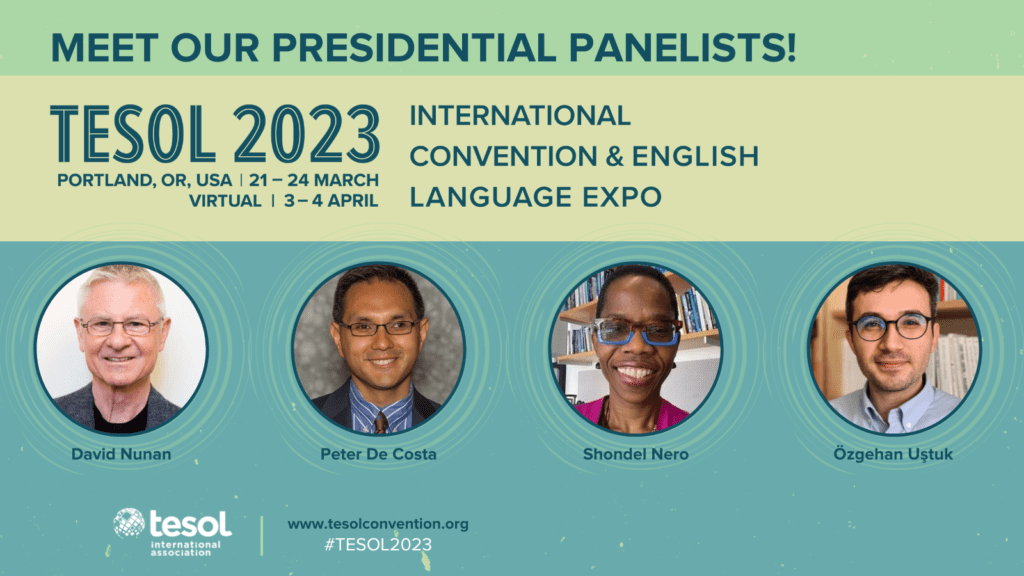 Following the plenary session, there will be a deep-dive session where attendees will have the opportunity to meet and discuss research in more detail with the panelists.
We are also excited that on Friday morning at TESOL, TIRF researchers will present "TIRF Research on Integrating Language and Content in Diverse Contexts" in a special colleague session, which is extended to TIRF from TESOL. Our collaborations are critical in the world of research (and even better when shared in person).
Our time at TESOL will be filled with meetings with current and prospective partners, as well. We are so looking forward to forging new TIRF initiatives with our partners. Additional details about our activities can be read on TIRF's website by clicking here.
We invite everyone to attend all of our TIRF sessions, and hope that you will introduce yourself to any TIRF Board members you may encounter in Portland. TIRF's future depends on our shared mission and execution of the strategic plan we will further develop. As President of TIRF, my goal is to expand the impact of TIRF in the field to benefit as many people as possible by doing meaningful things together, such as our grant and prize programs, TIRF Talks, mentoring programs, and all kinds of TIRF services to nurture young talent and advance a research agenda that elevates the quality of teaching while educating young people to become global citizens.
The future of TIRF is in our hands. See you in Portland!
Safe travels,

Jun Liu, Ph.D.
President, TIRF
Rector, City University of Macau