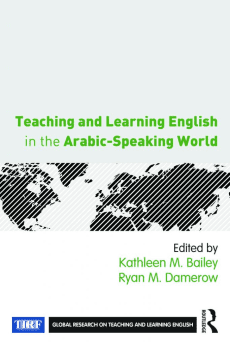 In March 2014, TIRF released its first ever book-length publication. Teaching and Learning English in the Arabic-Speaking World is co-published by TIRF and Routledge/Taylor & Francis. This book is the first in the series entitled, "Global Research on Teaching and Learning English."
Co-edited by Kathi Bailey (TIRF President & Chairman of the Board of Trustees) and Ryan Damerow (TIRF's Executive Assistant), this volume includes contributions from TIRF's Sheikh Nahayan Fellows and several individuals who were instrumental in developing the relationship between the Foundation and Sheikh Nahayan Bin Mubarak Al Nahayan. The book is dedicated to Sheikh Nahayan, as he was the person responsible for funding the Sheikh Nahayan Fellowships. We remain ever grateful for his support.
For more information about the book, including how to order, please click here. Please note that all royalties earned from the sale of the book will be donated to TIRF to help fund our programs.