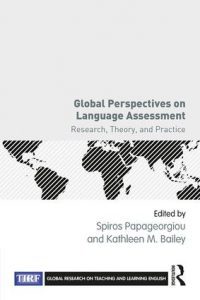 The sixth volume in the "Global Research on Teaching and Learning English" was released in February 2019. Global Perspectives on Language Assessment: Research, Theory, and Practice is co-produced with Routledge/Taylor & Francis.
This new book offers up-to-date research on the rapidly changing field of language assessment. The volume features original research with chapters reporting on a variety of international education settings from a range of diverse perspectives. Covering a broad range of key topics—including scoring processes, test development, and student and teacher perspectives—contributors offer a comprehensive overview of the landscape of language assessment and discuss the consequences and impact for learners, teachers, learning programs, and society. Focusing on the assessment of language proficiency, this volume provides an original compendium of cutting-edge research that will benefit TESOL and TEFL students, language assessment scholars, and language teachers
This volume is co-edited by TIRF Trustees Dr. Spiros Papageorgiou and Dr. Kathi Bailey. Click here to learn more information about this book, including how to order.