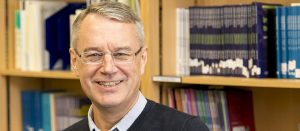 Editor's note: Dr. Nick Saville (left) from Cambridge Assessment English writes on how research is very much in the driver's seat when it comes to developing assessment solutions in Cambridge.

Cambridge Assessment English has been involved in the TIRF community for more than 20 years and we've worked together on numerous projects to promote research in the language assessment sector. I'm on the Board of Trustees, so the work we collaborate on is very close to my heart, especially the Doctoral Dissertation Grants that we sponsor.
Our organization is part of Cambridge Assessment, which is a department of the University of Cambridge. Our mission is simply to provide excellence in education supported by assessment. This is delivered through four parts of the business which are Cambridge Assessment English, OCR (Oxford, Cambridge, and RSA Examinations), Cambridge Assessment International Education, and Cambridge Assessment Admissions Testing. Although we're very different strands, we're all bonded together by the firm belief that research is the key to better learning solutions.
Cambridge Assessment English helps people to learn English and prove their skills to the world. We offer the Cambridge English Qualifications and associated support and assessment solutions. We firmly belief that learning English is about more than exams and grades, it's about having the confidence to communicate and access a lifetime of enriching experiences and opportunities. Our qualifications and tests are accepted by over 20,000 organizations worldwide, and provide the English language skills to communicate and succeed in the real world. We are also the producer and proud co-owner of IELTS, the world's leading English test for migration and higher education.
Our colleagues in OCR provide qualifications which engage people of all ages and abilities in the UK at school, college, in work, or through part-time learning programs. These include school-leaving exams and general and vocational qualifications equip students with the knowledge and skills they need for their future, helping them achieve their full potential.
My colleagues at Cambridge Assessment International Education work with schools that prepare school students for life, helping them develop an informed curiosity and a lasting passion for learning. They develop qualifications such as Cambridge IGCSE, Cambridge O Level, Cambridge International AS & A Level and Cambridge Pre-U, which are recognized by universities and employers worldwide as evidence of academic achievement. Their work gives students a clear path for educational success from age five to nineteen. Schools can shape the curriculum around how they want students to learn – with a wide range of subjects and flexible ways to offer them.
Cambridge Assessment Admissions Testing delivers admissions tests and has been working with U.K. and worldwide universities, governments, and employers for over 15 years. The admissions assessments are a global mark of excellence that set the quality standard. These assessments include the BioMedical Admissions Test (BMAT). BMAT has been used by world-leading universities since 2003, helping admissions tutors to make objective selection decisions and allowing students to show their full potential.
Although the four strands of Cambridge Assessment have very different portfolios of exams, we're all backed by extensive research. We combine expertise from different research disciplines to help us develop assessment services that are fit for purpose, have proven validity and reliability, and are aligned with international standards. It is this "golden thread" that runs through the very heart of everything we do at Cambridge Assessment.