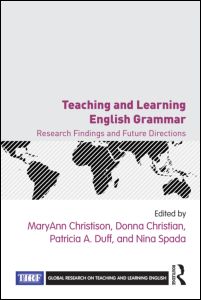 In March 2015, we published our second full-length book in cooperation with Routledge/Taylor & Francis. This book is the second in the series entitled, "Global Research on Teaching and Learning English."
The volume is co-edited by MaryAnn Christison (TIRF Trustee & Chair of TIRF's Research Advisory Comittee), Donna Christian (TIRF Trustee & Treasurer-Secretary), Patricia Duff (Former TIRF Trustee), and Nina Spada (TIRF Grantee). This grammar-focused publication is dedicated to Dr. Betty Azar for her support during TIRF's early years, as she was a major supporter of our grant programs. The volume features a collection of work that resulted from TIRF grants, which were awarded to individuals whose research focused on grammar in language education.
For more information about the book, including how to order, please click here. Please note that all royalties earned from the sale of the book will be donated to TIRF to help fund our programs.