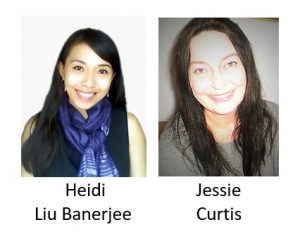 Two TIRF Doctoral Dissertation Grant (DDG) recipients recently wrote to TIRF headquarters to share information about some exciting updates. In this piece, we note the accomplishments of Dr. Heidi Liu Banerjee and Dr. Jessie Curtis and provide information about some of their recent professional activities.
We are pleased to share with our readers that Heidi Liu Banerjee (2017 DDG Recipient) won the 2018 Best Student Paper award at the ECOLT 2018 (East Coast Organization of Language Testers) conference, which took place earlier this month in Princeton, New Jersey. The title of her paper is "Measuring Complex Constructs of Communicative Language Competence Using Scenario-Based Assessment" and the abstract can be viewed online – click here.
The winner of the ECOLT Best Student Paper award is selected from paper presentations delivered by graduate students. To be considered, all authors on student papers must be actively enrolled graduate students at the time of the conference. The ECOLT committee assembles a group of judges to rate student presenters' performance in terms of content and delivery. The award is announced at the end of the conference, and the award recipient receives $100.
As for our second awardee to be highlighted in this piece, Jessie Curtis (2016 DDG Recipient), recently completed her doctoral work. Details of her final report will soon be posted to TIRF's website.
In addition, Jessie has been accepted to join an international comparative study, "Multilingualism and Teacher Education." This project is organized by the University of Lüneburg, the Coordination Office of Multilingualism and Language Education, in collaboration with the European Education Research Association Network 31 on Language and Education. The project brings together researchers to investigate how teachers across Europe and beyond are prepared as educators for linguistically diverse students. The work involves several meetings, with the next to take place on November 7th and 8th in Hamburg, Germany.
Commenting on participating in the "Multilingualism and Teacher Education" project, Jessie had the following to say: "I am really thrilled to be part of this, and I thank TIRF for supporting the dissertation research that gave me an opportunity to explore how multilingualism could be practiced in a local community program."
Please join us in congratulating Heidi and Jessie on their wonderful accomplishments!