As TIRF continues to evolve to better meet its myriad stakeholders' needs, it is evident that there is an opportunity to refine the tools we use when reaching out to individuals and organizations worldwide. We are excited to share with our supporters that TIRF's website and logo are undergoing changes in the months ahead.
As many readers of this update know, undertaking a complete website overhaul is no small task. TIRF's Chief Operating Officer, Ryan Damerow, worked together with a team of the Foundation's Trustees to determine how the current website could be improved. Beyond an outdated look and a text-heavy site, the team learned that visitors to TIRF's website could not always easily locate items of interest to them. Through interviews with potential website developers, we learned that we could potentially be missing opportunities to engage with the various types of stakeholders visiting our site. These issues and many others will be addressed in the work being conducted this summer.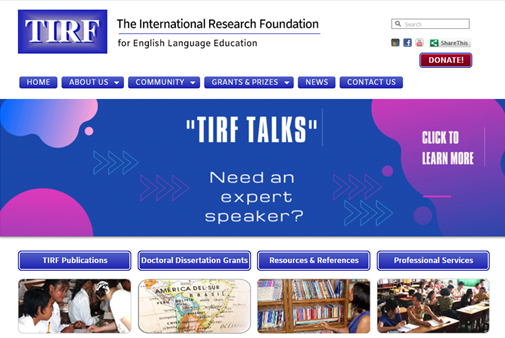 In addition, TIRF's logo, which has not been updated since the Foundation was first established, will be revised, as well, to compliment the work being done on the website. The logo work along with the website revamp will enhance TIRF's branding efforts, allowing the Foundation to better position itself in the language education industry.
TIRF's last major website update took place in 2010. After a thorough search of multiple vendors, we are pleased to be once again working with Archipelago Web for this latest work on our site. The logo work is being carried out by 38th & Kip. Both organizations are based in Colorado. We look forward to unveiling our new website and logo later this year. Stay tuned for further updates!