Editor's note: In this piece, TIRF Trustee Dr. Andy Curtis shares infor
mation about his and Dr. Liying Cheng's recent conference activities in Japan at the IAFOR conference.
Last month, from October 13th to 15th, the International Academic Forum, or IAFOR, held its 10th Annual International Asian Conference on Education, together with the Asian Undergraduate Research Symposium. The four main goals of IAFOR, as set out in their mission statement, are: "To promote international exchange; To facilitate intercultural awareness; To encourage interdisciplinary discussion;" and "To generate and share new knowledge." As TIRF supporters will know, the last of the IAFOR mission statements overlaps with the first of TIRF's: "To implement a research and development program that will generate new knowledge and inform and improve the quality of English language teaching and learning." The theme of this year's Asian Conference on Education, which was held in Tokyo, Japan, was "Surviving and Thriving: Education in Times of Change." According to the conference organizers, there were around 550 conference attendees from more than 50 countries.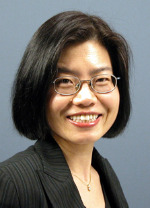 A longtime donor to TIRF, for more than 10 years now, Dr. Liying Cheng gave a conference keynote titled, "High-Quality Classroom Assessment in Times of Change: From Purposes and Uses to Tasks and Environments." In her talk, Dr. Cheng explained that: "It is through the day-to-day classroom assessment tasks and the environment teachers and students co-create that important decisions are understood, communicated, and reported." Dr. Cheng also emphasized the fact that testing and assessment are activities that teachers should be doing with their learners, not to them.
Following Dr. Cheng's keynote, another longtime TIRF donor, and one of the newest members of TIRF's Board of Trustees, Dr. Andy Curtis, gave his conference keynote, titled "Moving Forward by Going Back: Not Changing but Innovating." In his presentation, Dr. Curtis pointed out that, regarding education, times are always changing. However, some times of change may be more tumultuous than others, citing the last two years in the UK and in the USA as examples of such economic, political, and educational upheaval. Dr. Curtis also talked about his recent work on Peace Linguistics, and on (Un)Critical Thinking, in relation to the 2016 BrExit referendum in the UK, and the 2016 Presidential Election in the USA.
The next IAFOR international conference on education will be held in Honolulu, Hawaii, in January 2019, with the theme of "Independence & Interdependence." Dr. Curtis was invited to present at the IAFOR conference in Hawaii in January 2018, where he presented a talk titled "Ignorance is Bliss: The New Anti-Education Movement."